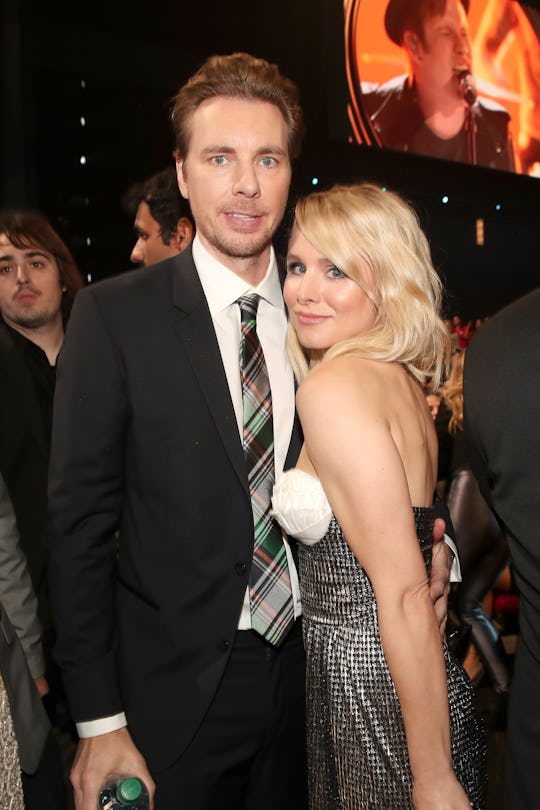 Christopher Polk/Getty Images Entertainment/Getty Images
You Probably Do Exactly What Kristen Bell & Dax Shepherd Do Once Their Kids Are Asleep
Kristen Bell and Dax Shepherd are probably among everyone's favorite celeb parents for their candid and down-to-earth disclosures about their lives being imperfect and quite relatable, in spite of fame and fortune. Well, you'll love them even more now that they've disclosed their nighttime routine once their daughters hit the hay. And as it turns out, what Bell and Shepard do after they put their kids to bed is something pretty much every couple can relate to.
The movie star parents of daughters Lincoln, 5, and Delta, 3, are especially admirable in their commitment to keeping their sense of humor intact as they raise a family, often posting awesome and hilarious tidbits about everything from labor pains and breastfeeding difficulties. But their latest admission has really warmed the hearts of late-night channel surfers, such as myself. Shepard recently told Us Weekly that after a long day with the kids, the gorgeous couple typically has a hot date... with the remote.
"There are two hours of mommy and daddy binge-watching TV time," Shepard recently told Us Weekly. "We get that couple hours at night where we fantasize about other people on TV." Shepard, 43 — most recently seen in the movie Chips — added in the same interview that their current picks are HBO's Succession and Sharp Objects. (Same, TBH)
While I, and likely so many other parents, so get them and can totally relate to this routine, this fun-loving couple is about more than just games and the boob tube. They have a real commitment to social justice and speaking up when it might help others. For example, they recently raised funds for New York public schools by raffling off the opportunity to win a game night with them, according to Babble, and Bell has been outspoken about the separation of immigrant children from their parents at the border, as People reported. She's also gotten involved with a number of charities over the years and has also spoken out about breastfeeding misconceptions, once telling SELF her thoughts on people who find nursing in public to somehow be problematic:
The fact that it is an issue is comical to me. If you're aroused by that, I think it's safe to say that's your problem and not mine. If it makes you uncomfortable, it's your responsibility to move away... I don't care where I'm breastfeeding.
Bell has also been open with other struggles that many, both in and out of the spotlight, often face. As she shared with TIME in 2016, she's suffered from depression and she and Shepard have also been outspoken about the challenge of juggling a healthy marriage, admitting that utilizing techniques such as couples counseling helps them tend to their relationship. "We still fight [post-counseling], but don't take disagreements to heart," she told You magazine in June. "I know he's on my team. If you have a long marriage that thrives without therapy, please call me because you are a unicorn!"
What's amazing about Bell, who will be seen in next year's Frozen 2 (yes, it's coming!) and Shepard, who headlines the upcoming The Buddy Games, is that they obviously don't have to be so honest with their fans, but they are. It's both valued and validating when they use their platform as celebrities to talk about things that aren't always frankly discussed. Like the fact that a marriage needs tending, and that parenting is, well, exhausting, and sometimes you just need to veg out on the couch for a couple hours with your special person.
So a huge "thanks" goes to this duo for admitting that when they're done with a long day of parenting, they need downtime in front of the TV, just like the rest of us.