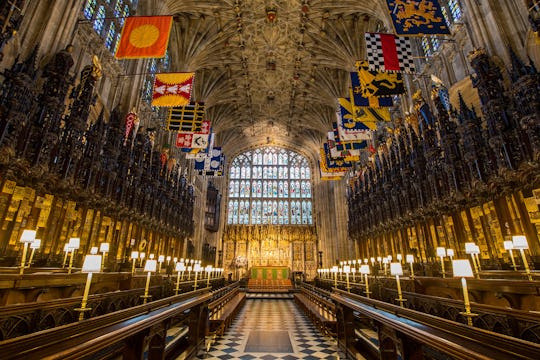 WPA Pool/Getty Images Entertainment/Getty Images
Here's The Song That Played As Meghan Markle Walked Down The Aisle
When Meghan Markle walked down the aisle at St. George's Chapel in Windsor Castle on Saturday, it was an emotional moment. Of course, we all remember the drama from earlier in the week about Markle's big moment being overshadowed by her father and his "will he, won't he" decisions about walking her down the aisle. Drama that sort of eclipsed those exciting, precious days leading up to his daughter's wedding. So when the time came for her to finally walk down that aisle, royal watchers wanted to know every detail, including what song was playing as Meghan Markle walked down the aisle. After such a difficult week, it was a shining, beautiful moment for the newest princess in the British monarchy.
After Markle's father Thomas Markle made the decision not to attend the royal affair at all, there were a load of questions about how that moment would play out for her. Especially considering how much detail and work goes into every single moment of a royal wedding; to have such a massive moment left up in the air just days prior to the wedding was, frankly, unheard of before this historic day. But thankfully, things worked out in the end. Prince Charles walked Markle down the aisle to become the Duchess of Sussex to a beautiful song written by George Frideric Handel, "Eternal Source of Light Divine."
It was a particularly beautiful moment, and Markle naturally looked spectacular. As for the music filling the hallowed halls of St. George's Chapel; it was incredibly moving. Traditional but slightly different, reportedly chosen by Prince Harry and Meghan Markle with careful consideration, according to a statement by Kensington Palace weeks before the May. 19 wedding.
Handel's song "Eternal Song of Light Divine" is an especially famous one; it's also known as the "Ode For The Birthday of Queen Anne" and Prince Harry and Meghan Markle chose Welsh performer Elin Manahan Thomas, who has actually performed the beautiful song before.
Under the direction of James Vivian, the Director of Music at St George's Chapel, an eclectic mix of soloists, choral groups, and other various musicians was expected to perform at the service. As Vivian said to Royal.UK at the time:
The Choristers, Lay Clerks, Organists and I are very much looking forward to this exciting day and are pleased to be performing at the service music chosen by the couple. We are also looking forward to welcoming to St George's musical colleagues from near and far who will be performing at this very special and joyful occasion.
Performers included the choir of St. George's Chapel, 19-year-old cellist Sheku Kanneh-Mason (reportedly a particular favorite of Prince Harry), Karen Gibson and the Kingdom Choir from southeast London, and The Orchestra conducted by Christopher Warren-Green.
All performers offered a different perspective, a lovely, meaningful moment to the couple's highly anticipated day. But it was the song that played as she walked down the aisle that really managed to feel like a heart-stopping moment.
The moment Meghan Markle walked down that aisle, all of the unfortunate drama from earlier in the week ceased to matter. Markle chose to walk down the aisle in a new, refreshing way, in the end... accompanied by Prince Charles, but also going a bit of the way herself. Essentially giving herself to her new husband, to the strains of "Eternal Source Of Light Divine." Because this was the moment both she and Prince Harry, and indeed millions of people around the world, had been waiting for. A moment unlike any other in history. When an American actress became a British princess... and she did it her own way.