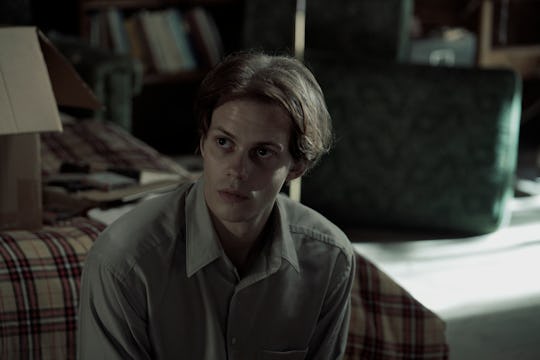 Patrick Harbron/Hulu
Here Are All The Stephen King Works Where Juniper Hill Appears
Castle Rock, the Hulu anthology series which draws from the Stephen King multiverse, just got greenlit for a second season but we still have about half of the first season left to air. Episode 6, titled "Filter," introduces a location that will be familiar to avid readers, so fans may be wondering: what Stephen King books does Juniper Hill appear in? The mental hospital in Maine is part of the fabric of King's stories.
It appears in no less than ten works, including It, Insomnia, Needful Things, Gerald's Game, The Sun Dog, The Tommyknockers, Bag of Bones, 11/22/63, Nightmares and Dreamscapes, and The Dark Half. In It, for example, Juniper Hill is the mental hospital from which Henry Bowers — the violent bully It frames for a series of murders — escapes. Other famous patients include Nettie Cobb from Needful Things, Space Cowboy from Gerald's Game, and Charlie Pickering from Insomnia. On Castle Rock, which culls together elements from all the King novels and short stories to form one narrative, it's where Henry Deaver brings The Kid after getting him out of Shawshank Penitentiary. Although it's been mentioned in the series before, Episode 6 will be the first real introduction to Juniper Hill in the world of Castle Rock.
The series' clever construct is part of what makes this TV adaptation work so well, in addition to the leadership of successful King adapter J. J. Abrams as an executive producer. Last summer, Spike TV adapted The Mist, another King horror novella, but the show never took off and it got canceled after just one season. Alternatively, Castle Rock relies on themes that pop up throughout King's body of work, and cherry picks characters and narrative details from different stories.
"The impulse was to try to write a show that can be fun and pleasurable for somebody who has no experience reading Stephen King, but also to satiate people who want to nerd out," said showrunner Sam Shaw at a 2018 ATX Television Festival panel for the series.
"We've seen things that are so packed full with Easter eggs that it becomes kind of dizzying," added his co-showrunner Dustin Thomason, "It was important to us [that those references] all had meaning."
It's a cunning way to draw in both die-hard Stephen King fans and folks who are new to his work. Setting Castle Rock in the modern era also eliminates any need for viewers to have a certain type of King nostalgia in order to connect with the series. Plus, Shaw and Thomason have a pretty winning endorsement from the source himself.
"After [King] watched the first episode, we were really excited because he said that for the first time in a very long time, he called out to his TV to tell someone to not go where they were about to go," Thomason said.
King also serves as an executive producer on the show, just to make sure the ship stays on course. New episodes of Castle Rock drop Wednesdays on Hulu.