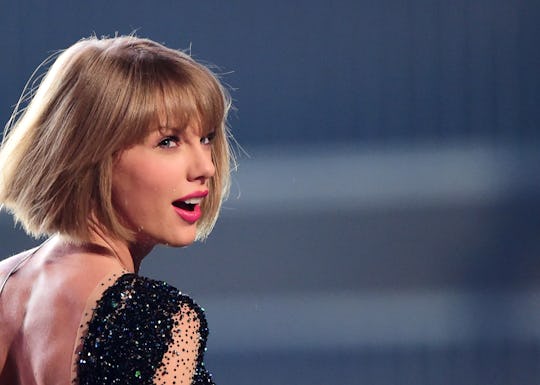 ROBYN BECK/AFP/Getty Images
People Are Desperate To Know What Time Taylor Swift's Single Comes Out
Those who were wondering what those weird snakes were on Taylor Swift's briefly stark, naked social media accounts are about to have their answer: The artist's new album Reputation, her first in almost three years, drops on Nov. 10, and she's releasing a single this week. But as it goes with the universe, one solved mystery only reveals another. A post to her Instagram account Wednesday said the single is coming "tomorrow night," but what time does Taylor Swift's single drop exactly on Thursday? Do you need to leave dinner early? Starve altogether? People need to plan!
It's been a minute since Swift dropped 1989, which of course won the Album of the Year Grammy. (Thank you very much, Kanye West.) So, it's understandable that everyone's in a frenzy over the news, which comes right before this Sunday night's MTV VMAs, just sayin'.
Master marketer that she is, Swift's been teasing her legions of followers since Friday of last week, when she wiped clean all her social media accounts. Yes, she literally turned her Instagram and Twitter accounts into ... blank spaces. (Get it?) But after a weekend of blankness, along with a solar eclipse came Swift's mysterious snake: a flickering clip of a wiggling tail shared to both accounts.
Tuesday, we got the body of the snake. And Wednesday, at last, the head, and the big news about the album and the single.
OK but that's so vague, Taylor!
Sleep is going to be lost, Taylor. Your fans need more information.
A "night" is a vast expanse of time. Does Thursday night end at midnight, in Taylorland? Is that the latest everyone needs to plan to wait?
Of course, fans across the pond have even more reason to stock up on coffee.
One thing's for sure — the suspenseful waiting won't end when this mysterious single does drop on Thursday "night." Everyone's next question will be about Sunday night's VMAs. Will she or won't she make a surprise appearance?
The rumor mill says Swift will indeed show up at the VMAs ... which would make for pretty compelling TV action, given the evening's host is none other than Katy Perry.
Come to think of it, Sunday night could really be a time of universal healing. Just think of it ... maybe Kanye West will make an appearance, too. What a time to be alive, people. What a time.