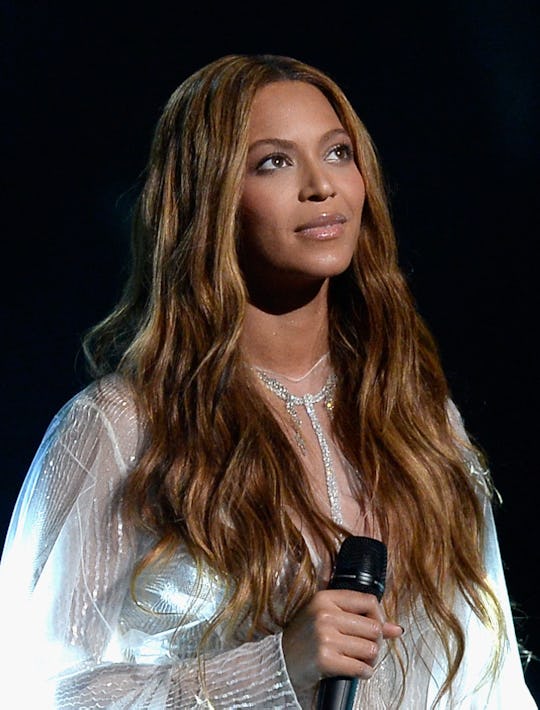 Kevork Djansezian/Getty Images Entertainment/Getty Images
Beyonce's Grammy Performance Will Be A Surprise
Everyone, it's almost time to get in formation because the 59th Annual Grammy Awards kicks off on Sunday night at 8 p.m. ET. The awards show has a star-studded lineup of performers, including Beyoncé who is expected to put on an incredible and memorable show because why would it be anything else? The night is rumored to be a spectacular one, but if you're only curious about when Queen Bey will hit the stage, you might be asking the question: What time is Beyoncé performing at the 2017 Grammys?
Well, it's hard to tell because Beyoncé isn't listed on the award show's official performer list. So it's not officially confirmed, but People reported that she will be performing and her dad and former manager Matthew Knowles also revealed that she will be taking the stage on Sunday night, according to Vibe. Even more reason to believe these reports are true, Bey was also spotted on Feb. 2 rehearsing for the Grammys with her dancers in Los Angeles, according to Entertainment Tonight.
But, as for the exact time that the 35-year-old singer could take the stage and dazzle the millions of viewers anticipating her performance, that will likely remain a mystery until the moment it happens.
If you're not planning on tuning in for the entire ceremony, it might be smart to regularly scroll through your social media feeds or perhaps set up a google alert for Bey so you know when to turn on a television or start streaming the performance. Otherwise, viewers should plan on dedicating at least three and a half hours to watching the Grammys, which is one of the longest awards shows of the year and should wrap up at 11:30 p.m.
But, honestly, the night will fly by considering the impressive lineup in addition to Beyoncé. While we wait for Bey's baby bump debut — if you've forgotten, she glamorously announced that she's pregnant with twins at the beginning of the month — viewers will be able to watch other highly anticipated performances from Katy Perry, Bruno Mars, John Legend, Metallica, Carrie Underwood and Keith Urban, according to People.
Hopefully, though, sometime between 8 p.m. and 11:30 p.m. ET Beyoncé's possible Grammy performance will come to fruition. And just because it hasn't been officially confirmed yet, there's no reason to lose hope. Queen Bey is constantly surprising her fans and the Grammys will hopefully will be the next time she chooses to delights millions.