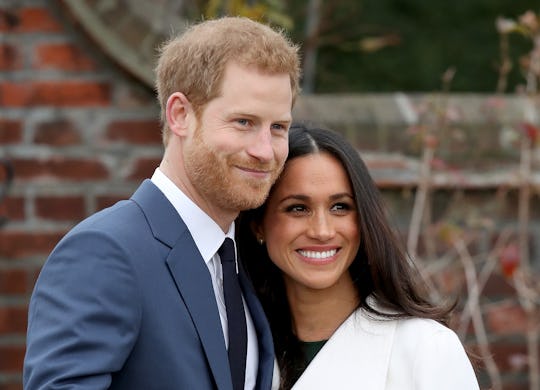 Chris Jackson/Getty Images Entertainment/Getty Images
Here's What Time The Actual Royal Wedding Ceremony Will Start In The U.S.
It's the week of the royal wedding, y'all! If you live in the United States and are planning to watch Meghan Markle and Prince Harry say "I do" in real time, you may want to get to bed early Friday night. While the festivities are unfolding at a normal hour in England, American fans are wondering: What time is the actual royal wedding ceremony in the United States? And not just what time the broadcast starts, but what time does the ceremony actually begin?
First off, in England, the royal wedding service is scheduled to begin at 12 p.m. local time, according to Kensington Palace's Twitter. Account for the time difference, and that's 7 a.m. Eastern Time and 4 a.m. Pacific Time. But for those who want to get every precious minute of sleep possible before rolling out of bed to tune in, here's a hot tip. The main part of the ceremony will likely begin shortly after its scheduled start time. Looking back at the live stream of Prince William and Kate Middleton's wedding, Middleton didn't make her on-camera entrance until about 50 minutes into the three-and-a-half hour broadcast. However, the broadcast surely began before the ceremony's scheduled start time, so it's hard to say exactly what time Markle will make her grand entrance.
That being said, if you tune in much later than 12 p.m. local time (again, that's 7 a.m. ET and 4 a.m. PT), you will still miss a lot. After all, Markle and Prince Harry are scheduled to go on a carriage procession through Windsor Town at 1 p.m., just an hour after the ceremony begins, according to Kensington Palace's Twitter. So if you tune in 15 or 20 minutes after things technically get started, you should be fine. However, that depends on exactly what you are hoping to see.
At Middleton's wedding, the Duchess-to-be made her big reveal outside of the chapel, as cameras captured her in the backseat of a car, driving to the ceremony, about 50 minutes into the broadcast. She didn't get out of the car, fully revealing her gown, until a full hour into the broadcast. The couple said "I do" and exchanged rings about 15 minutes after that, and they exited the chapel about five minutes later — meaning the bride was only in the chapel for a grand total of about 20 minutes.
So while tuning in a few minutes late may still allow you to watch Markle and Prince Harry exchange rings live, you could miss the very first moment Markle's wedding day look is revealed (which is what I'm personally looking forward to the most). Basically, tune in late at your own caution.
But if you do wind up missing any big moments, there's no doubt that highlight clips will turn up shortly after and that TV stations will be re-broadcasting the wedding later.
All that being said, even if you tune in right at 7 a.m. ET, aka when the ceremony is supposed to start, you may still miss quite a bit of coverage. CBS, BBC, NBC, and MSNBC are all airing live preshows beginning at 4 a.m. ET, and E! and Fox's preshows will begin at 5 a.m. ET. If you don't have a TV, there are also plenty of streaming options. Visit the websites of CBS, ABC, Good Morning America, The New York Times, or BBC America, to name a few, to watch live from your computer.
Or, if you'd prefer to be awake and alert when watching the royal wedding, perhaps you'd like to sleep to a normal hour and then catch the royal wedding in movie theaters. Cinemas all across the United States are airing at 10 a.m. local time, for $10 a ticket. Sounds like a pretty royal deal to me!
Basically, if you tune in a bit late on Saturday, you'll likely still get to see the ceremony's highlights, such as Markle and Prince Harry's first smooch as a married couple. But if you miss anything major, don't say I didn't warn you.