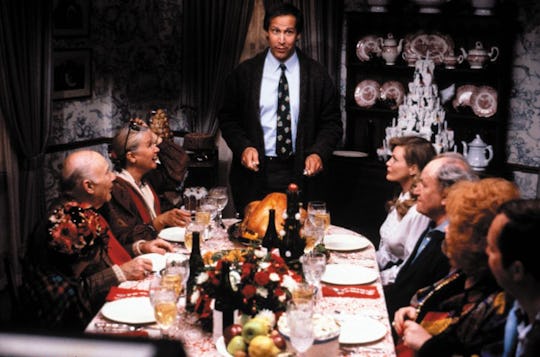 Warner Brothers/Freeform
Everything You Need To Watch On TV This Thanksgiving
Whether you believe in the tradition of Thanksgiving, enjoy all the food that comes along with it, or find yourself forced into makeshift family reunions for the holiday, chances are your Thanksgiving ends up centered around the big meal. But before and after you stuff your face, as we all so often do, there are plenty of things to watch on TV this Thanksgiving to pass the time and really enjoy what is likely a day off from work.
For some households, the usual Macy's Thanksgiving Day Parade is the big ticket item as far as what to watch in the morning, but in case you need a break from the three-hour televised event or you're not about that parade life, there are plenty of other TV shows and movies on throughout the day to make pretty much anyone in your home happy. As the day goes on, there are also a total of three NFL games at different times to ensure that you watch each of them (or are forced to endure them, since majority often rules on Thanksgiving).
But if that's not your idea of good TV before your food coma, there are also several good movies that will air as the holiday progresses. Basically, you'll have no excuse not to be a little bit lazy in your stretchy Thanksgiving Day pants and oversized sweater this year.
There might be a lot more than this set to air, but some of the highlights of what to watch on TV this Thanksgiving are as follows…
NFL Football
Catch the first game of the day on FOX at 12:30 p.m. EST as the Detroit Lions play against the Minnesota Vikings. After that, it's the Dallas Cowboys vs. the L.A. Chargers on CBS at 4:30 p.m. EST. And in the evening, you can watch the Washington Redskins play against the New York Giants at 8:30 p.m EST on NBC.
Macy's Thanksgiving Day Parade
The yearly and much-anticipated Macy's Thanksgiving Day Parade will be on NBC and CBS at 9 a.m. EST, as per usual.
The Countdown To 25 Days Of Christmas
Starting at 7 a.m. EST on Thanksgiving, you can watch holiday favorites like Home Alone, National Lampoon's Christmas Vacation, and Elf throughout the day on Freeform's Countdown to 25 Days of Christmas. Honestly, as weird as it sounds, it's not Thanksgiving without some solid Christmas movies.
Minions
It's not a holiday movie by any stretch of the imagination, but since Minions is defintiely one of those kids' movies that adults can legitimately enjoy too. You can catch it on FX at 11 a.m. EST.
Property Brothers Marathon
From 7 a.m. through 1 p.m. EST, you can get some serious home owning goals while watching Property Brothers on HGTV.
Cloudy With a Chance of Meatballs
If you're anything like me and you also enjoyed the book as a kid and fantasized about pancakes and hamburgers falling out of the sky followed by a downpour of orange juice, then this is probably the perfect movie to get you in the mood for your Thanksgiving feast. Watch it on FX at 9 a.m. EST.
Fixer Upper Marathon
After Property Brothers, get cozy with a Fixer Upper marathon from 1 p.m. to 8 p.m. EST. Since the final Fixer Upper season just began, there's no time like the lazy hours of Thanksgiving to catch up.
Grease
I don't think any of us really need an excuse to watch Grease in all of its nostalgic glory, and it's kind of the perfect movie to recite every single song and line of dialogue to as you burrow into the couch in your pajamas. On Thanksgiving, it will be on VH1 at 9 a.m. EST.
All that's left to do now is preheat the oven for whatever you need to bake for several hours and then grab your most favorite fuzzy blanket for some serious Thanksgiving TV time.
Check out Romper's new video series, Romper's Doula Diaries:
Watch full episodes of Romper's Doula Diaries on Facebook Watch.