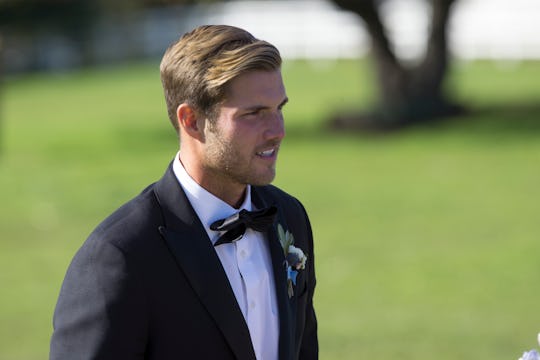 Paul Hebert/ABC
Jordan From 'The Bachelorette' Is Definitely Focused On Modeling
Another season of The Bachelorette, another male model to add to the mix, am I right? But to be fair, in Jordan Kimball's case, going on the show to find love with Becca Kufrin may be his main goal as opposed to trying to gain exposure to further his career. More outrageous things have happened, I guess. Since he is the resident model this season though, what type of model is Jordan from The Bachelorette? He actually takes his job very seriously and said in a video The Bachelorette posted on their Twitter page that there's more to modeling than being "ridiculously good-looking." I guess there's a reason why Chris Harrison compared Jordan to Ben Stiller's Derek Zoolander in the Facebook Live video that introduced all of Becca's contestants before the season premiered.
Jordan does have reason to be confident and secure in his job, though, as it would seem that he's the real deal as far as modeling is concerned. Judging by all of the different professional shots on his Instagram, Jordan does fashion modeling as opposed to other forms of modeling like runway and catwalk modeling. He seems to model clothing more than anything else, but he's also done photo shoots for companies and organizations that need a face to put with an ad. As to be expected, his Instagram is full of more professional photos than anything, which just further proves that Jordan is the model of the season. What that means for his longevity with Becca this season still remains to be seen, though.
Just in case you think that Jordan took up modeling just because he was chosen as one of the contestants for The Bachelorette, rest assured that he was already signed with Wilhelmina, a prestigious and highly sought after modeling agency, ahead of being cast. He also has a profile on Model Mayhem's website, though, and it was last active on May 20, so he definitely still looks for work on his own. His bio on the website says that his goal is to "work with creative and energetic photographers and give advice to other models." It also says that he's down to shoot nudes if necessary, so there's that.
Besides being ridiculously photogenic and growing his career as a model, Jordan also went to the College of Central Florida, where he earned a degree as a business specialist and studied accounting technologies. I think it's safe to say that there's more to Jordan than just modeling, but for right now, it does seem like modeling is his main career focus.
As a model, Jordan has advertised for a number of different designers and even recently did a shoot for Lavish Designs & Events, an event planning company, because how could a Bachelorette contestant not do a wedding-themed photo shoot? He was also on the cover of the fall/winter 2017 John Craig catalog, which is a pretty big deal in and of itself.
Jordan also isn't the only contestant this season with a non-office oriented career, with a stuntman, banjoist, and social media participant — I can't even with that one — also part of the cast of men vying for roses. The Bachelorette is obviously going to have its fun with the male model of the season, who may or may not say things to put himself in the position of having the end credit scenes dedicated to him, but at least he takes his job as a model seriously. Whether or not Becca will be able to take him seriously for the duration of the season in order to really build something with him has yet to be determined.