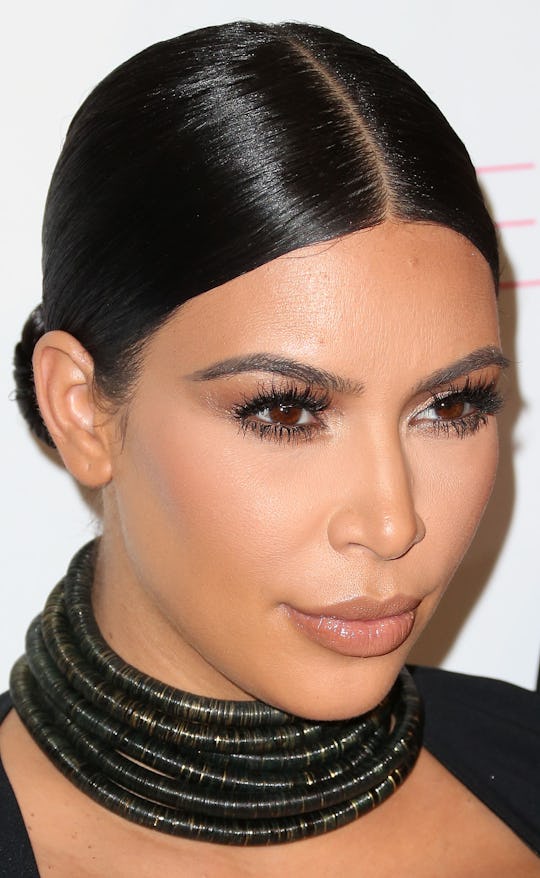 Frederick M. Brown/Getty Images Entertainment/Getty Images
What Were The 15 Photos Kim Kardashian Posted On Instagram? They've Caused Quite A Stir
Kim Kardashian isn't known as a shrinking violet and her very risque, NSFW social media marathon session from Saturday night was no exception. Reality TV star Kardashian posted 15 racy photos on her Instagram this weekend as she attended club-owner and friend David Grutman's star-studded Miami wedding, along with her hubby, Kanye West and big sis, Kourtney Kardashian. The photos show Kardashian in a revealing black lace dress, flaunting generous amounts of ample cleavage, and putting some of her most passionate and suggestive moments on display for all to see. The impromptu photo shoot had followers wondering what the mysterious message was behind the sudden social media flurry, and whether or not it was intended to be as public as it ended up being.
Of course, the internet was pretty busy on Saturday night. For starters, people had been anxiously waiting for the reveal of Beyoncé's Lemonade — after a week-long tease — and it pretty much dominated the night's conversation, after the singer released 12 new songs as a part of her surprise visual album. The HBO special gave fans a look inside Beyoncé's relationship with husband Jay Z, leading many to speculate whether she had been cheated on and whether there was a realistic possibility of divorce for the couple.
If Beyoncé's surprise album drop and HBO takeover wasn't enough for your Twitter to handle, Kardashian too seemingly made sure to make an appearance on everyone's social media feeds with her very public selfie-session.
In recent months, some have speculated that, while not publicly acknowledged, Kardashian and Beyoncé have been harboring quite the feud with one another. On Saturday, both Kardashian and Bey's respective followers were soberly reminded of this: Kardashian's first photo was posted just before Lemonade aired at 9 p.m. ET. The Beyhive was not happy and defended thusly and promptly.
Kardashian has been making waves with her viral social media posts of late. Just last month, Kardashian and actress Emily Ratajkowski went topless for an Instagram selfie in a bathroom, which was later paired with the caption: "When we're like... we both have nothing to wear LOL." The message wasn't too difficult to decode: As the duo flipped off the camera, they seemed to be urging women to support one another and own their sexuality. The image quickly became the subject of plenty of positive messages, as well as a myriad of negative comments from those who believed Kardashians method was distracting from the real conversation.
In response to the recent firestorm surrounding her, Kardashian took to her website to post an open letter on the subject:
I am empowered by my sexuality. I am empowered by feeling comfortable in my skin. I am empowered by showing the world my flaws and not being afraid of what anyone is going to say about me. ... As soon as my son entered this world, I felt an instant, palpable expectation —perpetuated by our culture, and other mothers (unfortunately) — to "act like a mother." I had no idea what that meant, and still don't, but I do know that one of the characteristics that embody "acting like a mom" is the willingness to hide my sexuality, if not do away with it entirely. In fact, I'm not allowed to be sexual at all."
The Keeping Up With The Kardashians star has long had her life on display and isn't shy to share the intricacies of her private life with the world. Still, it's not clear whether those 15 Instagram photos were meant as a message to those nude-selfie haters or whether, as the Beyhive suggests, she was attempting to detract from supposed "rival" Beyoncé's big night. Or maybe it's none of the above, and just a way for the reality star to blow off steam on a fun night out. Whatever the case, Kim seems to be playing it close to the vest for now.