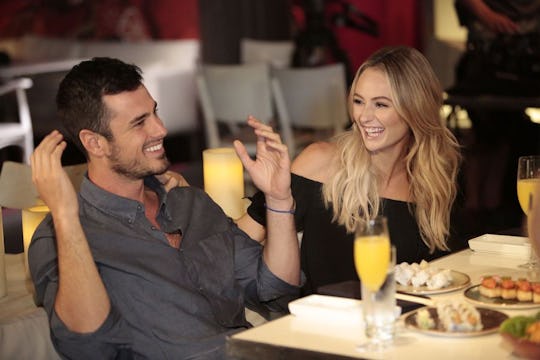 Freeform/Greg Zabilski
What Will Ben & Lauren's Wedding Look Like? The 'Happily Ever After?' Star Has Good Taste
We might not have a wedding date set, or even a confirmed venue for the former Bachelor couple, but Ben and Lauren's wedding is already widely anticipated by the millions of Bachelor fans out there. So now is as good a time as any to speculate on all of the details of the impending nuptials. Like, what will Ben and Lauren's wedding look like? Obviously ABC is going to play a role in its execution, considering that it is now going to be a televised affair — something that the two of them agreed to during last Tuesday's episode. But we should also expect a personalized wedding between Ben and Lauren because, as we've seen on Ben & Lauren: Happily Ever After?, they have a real, legitimate bond that should be factored in when planning their wedding.
There have only been two episode of their new reality show so far, but we've gotten to see the couple in their Denver home together, sharing worries over exes and settling into domestication that somehow also includes Lauren playing dorky, but adorable pranks on a continuously unsuspecting Ben. When she lived in Portland, Lauren worked as a flight attendant, but since she's made the move to live with her now-fiancé, she's taken a break from her career to focus on other interests. In this case, her lifestyle blog, Sparkle in Her Eye, which is proof enough that Ben and Lauren's wedding will be as stylish as possible.
On her blog, Lauren calls herself a designer and "fashion enthusiast," detailing her makeover of Ben's home once she moved in to make it more couple friendly rather than the bachelor pad it once was. Her choices for the interior involved lots of whites and cremes and pairing rustic pieces with more modern furniture, so is that what Ben and Lauren's wedding will be like?
Thanks to Pinterest, there are no shortage of ideas for rustic-themed weddings these days, but as that's becoming a little tired in itself, we can probably expect Lauren to put to use some of her designing skills to bring a city-meets-the-country vibe to their wedding. Think, simple neutral colors with a little personality thrown in.
But I hope, and I know I'm not the only one here, that during the wedding prep and the hours leading up to the actual vows, we get to see another one of Lauren's pranks on Ben. OK, so sometimes putting toothpaste inside of Oreos can seem a little annoying, but when she tricked Ben into thinking he'd be singing the national anthem at a baseball game, and stuck with the prank to follow it through, that was kind of amazing on her part.
The Bachelor couple might be taking on couples therapy to strengthen their relationship, but it's obvious that they already have a solid foundation to work with and have started to build the kind of relationship that's about more than just passion and attraction, but also about fun and friendship. And we'll more than likely see that play into their wedding.
We might also see less flowers than a normal wedding, except for maybe some red or white roses to pay homage to the show Ben and Lauren fell in love on. Lauren seems to have a thing for succulents, and who can blame her? They're the least high maintenance of all house plants and they look so much more unique than your typical flower arrangements at weddings.
Basically, don't expect a stock, cookie cutter wedding from Ben and Lauren, because the couple have already shown how legit they are, as opposed to just going with the motions of reality TV fame.