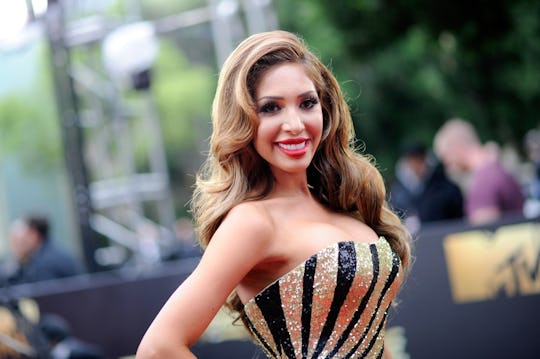 Emma McIntyre/Getty Images Entertainment/Getty Images
Here's Where Farrah Abraham's Career Might Take Her Now That She's No Longer On 'Teen Mom OG'
It has been a tumultuous year for Farrah Abraham and MTV, the network where she became famous on 16 & Pregnant and then later on the Teen Mom franchise. But now that they're embroiled in a legal mess, it's not clear what Farrah Abraham will do after Teen Mom OG. Abraham is suing Viacom, the network that owns MTV, for allegedly firing her after learning that she was working in adult entertainment.
Abraham alleges that the network discriminated against her for her career choices outside of the reality show, according to E! News. Romper's request for comment from Abraham was not immediately returned. But a Viacom spokesperson told Romper in a statement that they "respect Farrah's decision to pursue other endeavors and we wish her the best. Regarding her suit, the claims are without merit."
Given that she wasn't at the Teen Mom OG reunion and the fact that lawsuits can get pretty contentious, it's not likely that she would go back to working for MTV. But she might be open to other reality television opportunities, as she has suggested multiple times in interviews about her career choices.
Part of her $5 million lawsuit against Viacom is in fact asking for financial and emotional damages she incurred after the network cancelled another reality TV project that they had been developing, along with cutting her from the Teen Mom OG cast, according to Variety. It's unclear whether she can shop the concept or format of that project around.
She could always continue working in adult entertainment or earn income with endorsement deals, like the six figure one she has with Raspberry Tones, according to TMZ. The company's rep told the celebrity news outlet that Abraham was the perfect fit for health and wellness products:
Farrah represents a growing audience of young, active people who take care of their health and use only natural products to look and feel great. Farrah looks fit and fabulous, and takes care of her body, and a lot of health-conscious people can look up to that.
So there are always more endorsement deals where that one came from that she can try to take advantage of. But given all of her prior statements to the media, it sounds like Abraham wants to keep working in television. After all, Abraham did tell Us Weekly that she felt that she was the only cast member who had any star power, carrying the show Teen Mom franchise all on her own.
The 26-year-old told Us Weekly late last month, "I wish them all the best with the show. I'm out on a high note. This is the longest season in history and I'm their biggest star." She said in the same interview:
I can do my own show, but I don't want to focus on reality TV. I'm focusing on scripted opportunities but will always enjoy a good reality TV project.
So it sounds like she's open to anything that doesn't involve her old network. Abraham is one of those people that fans love to hate, but she does really seem to believe that she wronged by MTV and the producers of Teen Mom OG. She posted on Instagram about her lawsuit:
Never apologize for being an ambitious, confident, and strong minded women, as I become the best Farrah I can be, I won't let a man or network be little me, try to break me, lie about who I am to my core, I'm bullied, surrounded & hurt by all the manipulation, I no longer will allow as a protective mother this vulgar behavior.
So she will likely be really picky about whatever projects come her way going forward. In the meantime, Abraham is also mom to 9-year-old daughter Sophia, so she already has a lot on her hands. Whatever Farrah Abraham decides to do now that she's no longer on Teen Mom OG will likely be an exciting new chapter for the reality star.
Check out Romper's new video series, Bearing The Motherload, where disagreeing parents from different sides of an issue sit down with a mediator and talk about how to support (and not judge) each other's parenting perspectives. New episodes air Mondays on Facebook.