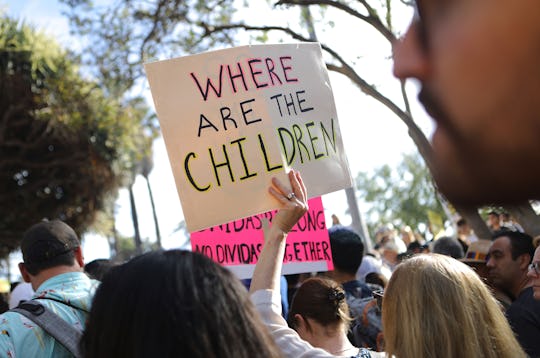 Mario Tama/Getty Images News/Getty Images
What You Need To Know Before The Families Belong Together Protests
The plight of migrant families who have been separated at the U.S.-Mexico border has been on everyone's minds lately. Parents who were fleeing to the United States, many seeking asylum, with their children were instead detained for trying to enter the country illegally. As a result of the Trump administration's "zero-tolerance" immigration policy, thousands of children were reportedly separated from their parents to be held in a different facility. It was an action so horrendous that people could not simply turn away; they wanted to take action, and they have. In response to the immigration policy that's torn ripped families apart, protests have been organized all across the country. So before you take to the streets yourself, here's what you need to know before the Families Belong Together protests take place next weekend.
Activists organized the Families Belong Together protest to be held in Washington, D.C., at Lafayette Square starting at 11 a.m. on Saturday, June 30, with sister marches going on in other cities across the country at the same time. The protest was initially announced on June 18, when Rep. Pramila Jayapal spoke to MSNBC's All In With Chris Hayes about the Trump administration's current "zero-tolerance" policy when it comes to illegal immigration. Jayapal explained that the protest is being supported by hundreds of organizations, including the advocacy group MoveOn, which wants to see an end to the poor treatment of migrant families at the border and ensure they stay together (and are reunited), according to Hello Giggles.
Now you might be asking yourself whether a protest is still necessary in light of the executive order President Donald Trump signed on June 20, as CNN reported, ostensibly to bring families back together. But there are a few things you should know before the Families Belong Together protests to make sure you have all the updated information and understand why people are still fighting for immigrant families.
What The Executive Order Means For Families
The executive order President Trump signed under mounting duress from the public is not as straightforward as you might think. Sure, President Trump told reporters on Wednesday, according to NPR:
So we're going to have strong — very strong borders, but we're going to keep the families together. I didn't like the sight or the feeling of families being separated.
Here is what that means: families will still be detained, but they'll be detained together. As Karen Tumlin, director of legal strategy at the National Immigration Law Center, told NPR, "The president doesn't get any Brownie points for moving from a policy of locking up kids and families separately to a policy of locking them up together," she told NPR. "Let's be clear: Trump is making a crisis of his own creation worse."
Who Gets Reunited?
President Trump's executive order does not address the fact that nearly 2,000 children have already been separated from their parents, according to The New York Times, and there appear to be no plans in place at the moment to reunite them.
However, while Brian Marriott, a spokesperson for the Department of Health and Human Services, told The New York Times that "reunification is always the goal" in situations where immigrant children are separated from their parents, this could still mean that children are placed with an adult family member living in the country and not their parents they remain in federal custody.
When Will Families Be Reunited?
There also remains the question of when these children will be with their parents. The executive order did not give a specific deadline, according to NBC News, which could see children and their parents detained indefinitely together.
Why It's Important To Keep Fighting
The Families Belong Together protest remains vitally important for several reasons, not the least of which being that President Trump's executive order has proven that staying the course works. Staying focused and clear-eyed on the issue at hand: Trump's "zero-tolerance" immigration policy. According to MoveOn's website, the executive order shouldn't dampen the spirit of taking action against separating families:
The executive order that Donald Trump signed today is not a solution to the crisis created by his administration; it keeps kids imprisoned indefinitely, and doesn't reunite thousands of separated families. But it does show the administration is reacting to public pressure, so we will continue to increase our pressure for justice at hundreds of events on Saturday, June 30, to say that families belong together—and free.
With that in mind, more than 13,000 people have already signed up to attend the Families Belong Together protest just in Washington D.C. on Facebook, and there are at minimum 130 sister marches across the country. To find one closest to you and see how you can become a part of the national day of protest, visit MoveOn's website.
If you can't make it to a Families Belong Together protest, there are still other options to support the cause. You can call your member of Congress to let them know how you feel, you can sign a petition at the MoveOn website, which already has 444,000 signatures and will be "delivered to Secretary of Homeland Security Kirstjen Nielsen," as well as the U.S. House of Representatives and the U.S. Senate. Or you can donate to programs and organizations supporting the rights of the migrant families.
The reality is that these families need continued support and what's happening on June 30 shows that the country isn't going to let them to fade into the background just as soon as they get a little attention from the White House.