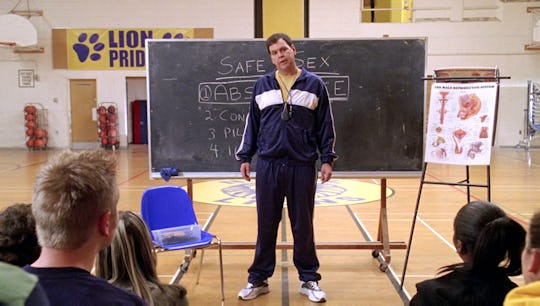 Paramount Pictures
What You Were Taught In Sex Education Vs. Reality: 13 Huge Differences
I like to think of myself as a cool mom who will someday have that awkward supply of condoms for my son, along with many uncensored sex talks. Even when he insists that I shut the eff up. Because I know he will. But if the future of sex education is full of misinformation like all the sex education I had in both middle and high school, he'll need his over-sharing mom's sexpertise (You like that? I'll save that cringe-inducing word for him, too). Like when they taught (more like warned) us about all of the ways to get pregnant, which I'm pretty sure included the dangers of being in a hot tub with your partner, regardless of what you were doing with them.
But, like so many people across multiple generations who have experienced the same thing, I feel like so much of sex ed, instead of actually educating students, was about scare tactics that I left class feeling worried about doing so much as kissing. Which, I guess, was the point: to terrify us into abstinence. But I would much rather have my son get real, useful information about sex from the place where he expects it than to have him resort to the sort of unrealistic "knowledge" from porn and the internet. And the "abstinence pledges" and claims of "pregnancies resulting from dry humping" are sex "education" gems that are so far from substantial. In fact, they can be quite damaging.
Remember that scene in Mean Girls when Coach Carr tells the sex ed class that they will positively get pregnant and die if they have any sex whatsoever? Sadly, that is the sort of painful memory I dredge up when I think about the sex ed I experienced as a kid. While 22 U.S. states, including the District of Columbia, allow and actually require schools to teach sex education of some sort, just 19 of those states have policies in effect that make sure sex education is accurate as far as the medical and scientific information offered.
Where does this leave those other states on "educating" kids? Yeah, I'm not really sure, but it just goes to show that sex ed today is still something that needs a lot of work. At least, according to the wonky things I learned in my classes, it is. Here's a fun* little summary of the differences between what I was taught in sex ed versus what I later learned the reality behind those "lessons" was:
*terrifying