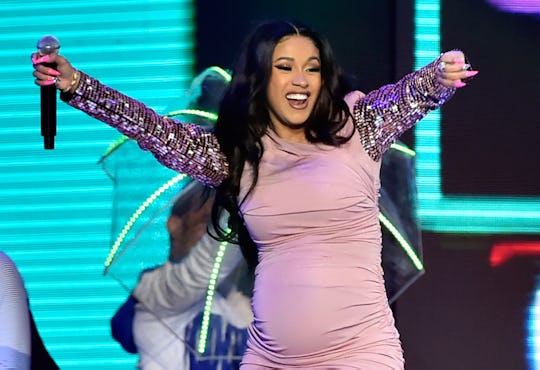 David Becker/Getty Images Entertainment/Getty Images
Cardi B's Baby Is Here & The Sex Has Already Been Revealed
After keeping her pregnancy under wraps, and then proudly rocking her baby bump on the SNL and Coachella stages, it's official: Cardi B is a mom. According to TMZ, the record-breaking rapper gave birth Tuesday night at an Atlanta hospital and with her husband, rapper Offset, by her side. So, what's Cardi B's baby's sex? It would appear that Offset's lot in life is to be surrounded by queens.
According to TMZ, Cardi B — whose "real" name is Belcalis Almanzar — gave birth to a healthy baby girl. Her newborn daughter's name has also been revealed, and fans have some *feelings* about it (per usual). According to TMZ, the couple named their daughter Kulture Kiari Cephus, truly a name fit for a queen, which makes sense considering the rap royalty this little baby has been born into. At the time, little else is known about the newborn (i.e. height, weight, etc.) and we've yet to be graced with a photograph, but, per reports, the baby girl is healthy, Cardi B is doing well, and now the Queen of rap is also a mom to a sweet baby girl. What a time to be alive, my friends.
Fans of the rap power couple might remember that Cardi B and offset secretly got married on September, 10, 2017, according to TMZ. So it's safe to say the couple, and their friends, can keep a secret. But per TMZ, Cardi B recently opened up about the super secret nuptials, saying, "There are so many moments that I share with the world and then there are moments that I want to keep for myself! Getting married was one of those moments! Our relationship was so new breaking up and making up and we had a lot of growing up to do but we was so in love we didn't want to lose each other."
Cardi B also opened up about her choice to keep her pregnancy a secret, writing on Instragram, according to E! News before the post was deleted, "This is why I did not wanted to say nothing. People be so thirsty to scrutinize and try to destroy something that it suppose to be a blessing."
Given the (deserved, mind you) secrecy regarding their wedding and Cardi's pregnancy, it's safe to say that it might be a while before the public sees a picture of Cardi B and Offset's daughter. As is the right of any new mom (and dad!), they're entitled to some privacy as they adjust to live as brand new parents, with a brand new, tiny human being to take care of.
But when the dust settles and the two become more comfortable in their new roles as mom and dad, fans can be sure to expect the same explicit, filter-free candor from Cardi B about motherhood as we've experienced with, well, whatever else the rapper feels like talking about.
For example, Cardi B has been pretty candid about pregnancy sex, recently tweeting, "I want to have sex but I loose [sic] my breath soo fast." I mean, if that's not some real talk I don't know what is. She has also tweeted that she can't see her vagina anymore, thanks to her growing belly bump, and lamented about how difficult it was for her to shave her vagina as a result. In other words, the rapper and new mom isn't afraid to talk about the less-than-pleasant aspects of pregnancy, and I have a feeling the same will be said for new motherhood. After all, us parents know there's plenty to say about the sleep-deprived, sore, overwhelmed, bodily fluid-filled life of a new mom.
Congratulations, Cardi B and Offset!