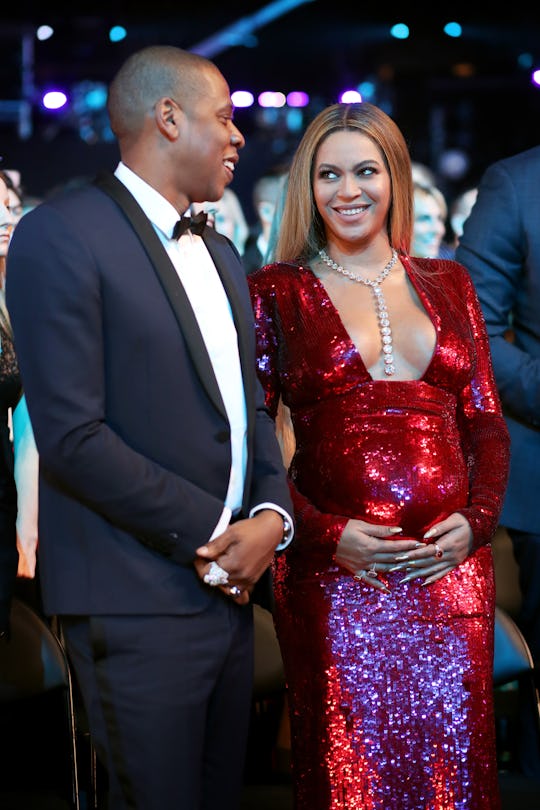 Christopher Polk/Getty Images Entertainment/Getty Images
JAY-Z's "Family Feud" Music Video With Beyoncé & Blue Ivy Looks Really Intense
JAY-Z and Beyoncé never do things small. Just like he says in the song, JAY-Z always thinks "Biggie" and the release of his newest music video is apparently no different. It's not entirely clear what JAY-Z's "Family Feud" music video is about, but it looks like it's going to be pretty epic, if only because it features Beyoncé and a lot of religious and regal imagery, and some more literal references to the Godfather, according to Variety.
The video, which hits Tidal on Friday, Dec. 29, sounds like it's about family values or keeping a family together. One of the more obvious themes in the lyrics and visuals is JAY-Z's infidelity, which the couple has been pretty open about. Although in other tracks on the album, he gets more contemplative about his cheating on Bey, in this song he's pretty straightforward about it. He raps in one verse about "Becky," a reference to the woman he had an affair with:
Yeah, I'll f*ck up a good thing if you let me. Let me alone, Becky. A man that don't take care his family can't be rich. I'll watch Godfather, I miss that whole shit. My consciousness was Michael's common sense. I missed the karma that came as a consequence. N***as bustin' off through the curtains 'cause she hurtin.' Kay losin' the babies 'cause their future's uncertain. Nobody wins when the family feuds.
So, the visual references to the iconic film definitely match the literal ones.
Editor's Note: The Instagram post has since been deleted.
The rest of the teaser includes shots of JAY-Z walking in a church with Blue Ivy and Beyoncé up on the alter in a pope-like outfit. There's also a steamy scene of a man having sex with another woman with a man having sex with another woman that turns violent, with her stabbing him in the back. Then, there are flashes of JAY-Z in a confessional, while Bey waits, looking kind of smug.
Because Beyoncé is there and the lyrics include references to his affair and his family throughout (in another verse, he taps about Beyoncé feeding his kids "liquid gold"), it's easy to assume that the "feud" he's talking about his own family feud. And in some way, he is doing that, too. But according to his own comments on iHeart Radio, it's actually a much more common, classic hip hop theme: Infighting among rappers.
He said:
"Family Feud" is about separation within the culture. Like, new rappers fighting with old rappers, saying all these things. So, the line is, "Nobody wins when the family feuds."
That explains the mentions of black ownership and keeping things together. It also explains the Godfather references like Michael Corleone and karma. Whether it's within a nuclear family, the mafia, or crews of artists...no one wins when people are fighting with each other.
Although the tawdry details of Beyoncé and JAY-Z's marriage might be more interesting to people, the entire album, and especially this track, is all about hip hop culture and empowerment.
He said in the same iHeart Radio interview that "The Story of O.J.," was "about we as a culture, having a plan, how we're gonna push this forward. We all make money, and then we all lose money, as artists especially. But how, when you have some type of success, to transform that into something bigger."
For JAY-Z, the personal always seems to be professional and he is very aware of the fact that his relationship with Beyoncé has a lot of meaning to people as a symbol of hip hop culture and black empowerment.
So, yes, he intertwined imagery of betrayal and forgiveness into the video and brought his wife in to make it iconic (since everything she does is iconic) but the video for "Family Feud" is about so much more than just atoning for infidelity.