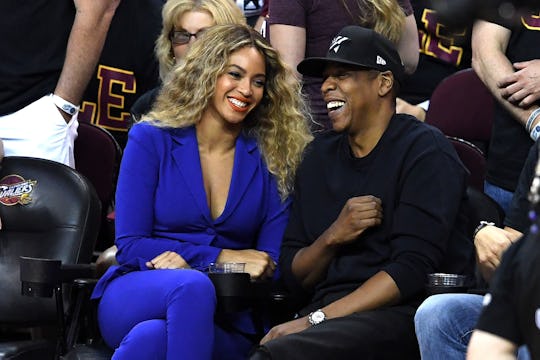 Jason Miller/Getty Images Sport/Getty Images
Beyoncé's Response To JAY-Z's Cheating Revelation Will Prove Where The Couple Stands
This week, an interview with JAY-Z in T: The New York Times Style Magazine had everyone shook since it was the first time he really opened up about his marriage, aside from what he raps on his album 4:44. So far, Beyoncé's response to JAY-Z admitting that he cheated on her is still to come, but that doesn't mean she didn't read it. Romper's request for comment from Beyoncé's representatives was not immediately returned.
If anything, her silence about the interview and JAY-Z's willingness to talk so candidly about their marital problems is a sign that the couple's really moved on. The pain of infidelity might never really, really go away, but it looks like both stars have done the best they can to repair their partnership. And from the looks of it, they're stronger than ever.
As most everyone knows by now, Bey's Lemonade was mostly about her marriage and processing JAY-Z cheating on her. Likewise, his most recent album was one of his most vulnerable yet and also addresses their marriage. In The New York Times interview, JAY-Z tells editor Dean Baquet that music was their collective therapy, but that it was also painful for both of them to hear the music that came from all the emotional trauma. That Beyoncé hasn't said anything about it, and likely won't, only shows that they've both grown and learned a lot from the experience.
JAY-Z really opened up in the interview and it was a side to him that many haven't seen before. Baquet asked about how his and Beyoncé's emotional albums came about and JAY-Z said:
It happened — we were using our art almost like a therapy session. And we started making music together.And then the music she was making at that time was further along. So her album came out as opposed to the joint album that we were working on. Um, we still have a lot of that music. And this is what it became. There was never a point where it was like, "I'm making this album." I was right there the entire time.
That doesn't mean it wasn't hard AF. JAY-Z added that it felt like they were in the middle of a hurricane, which can be hard. But it's the "best" place to be, the rapper added, since you have to take a good, hard look at your actions and how they affect the people you love. But it all comes down to respect for each other, he added:
You know. [I was] really proud of the music she made, and she was really proud of the art I released. And, you know, at the end of the day we really have a healthy respect for one another's craft. I think she's amazing.
It's likely that she feels the same way about him. Queen Bey hasn't posted anything about the interview or shared it on her social media accounts, but she has had a busy past 24 hours. For one, Instagram announced that her pregnancy announcement was the most liked post of the entire year. So she really broke the internet in her own way. In addition to that, she's also on a new Ed Sheeran track called "Perfect," which is bound to be a mega hit this winter, given the wide appeal of both artists.
It's been a crazy past few years for both JAY-Z and Beyoncé, with the release of Lemonade, her Formation tour, the release of 4:44 and his tour, and then the birth of their twin babies, Rumi and Sur, this summer. Judging from JAY-Z's candidness in this most recent interview, all the crazy has been totally worth it.
Check out Romper's new video series, Romper's Doula Diaries:
Watch full episodes of Romper's Doula Diaries on Facebook Watch.