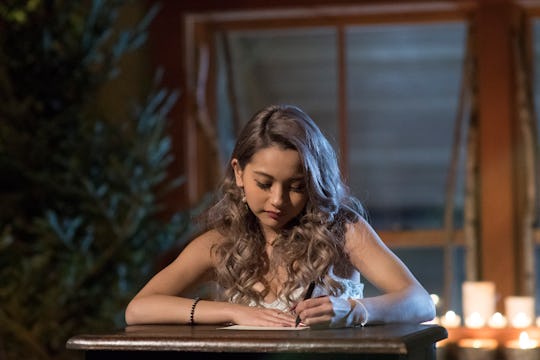 Lorenzo Bevilaqua/ABC
Here's What Yuki Has Been Up To Since 'The Bachelor Winter Games'
Even though she spoke very little English and didn't end up finding love, I think we can all agree that one of the highlights of the first ever season of The Bachelor Winter Games was Yuki Kimura, the former Bachelor contestant and representative from Japan. But what is Yuki doing after The Bachelor Winter Games? It's safe to say that she made a lot of new friends while filming and since she went back home to Japan, she seems to have felt the absence of her newfound friends from her time on the show.
On both Twitter and Instagram, Yuki has posted about missing her new friends and that when she left The Bachelor Winter Games to go home, she was "very lonely." When you think about the time she had while filming and the friendship she formed with Ben Higgins specifically, it's easy to see how Yuki felt the blow of leaving behind all of the new people she'd meant and spent time with over the course of a few weeks.
But the good news is that Yuki also wrote that she plans on returning to America soon and although Bachelor in Paradise has never been an international Bachelor show, Yuki became such a favorite for so many fans that producers are likely brainstorming a way to bring her back as soon as possible.
In addition to being a model, Yuki also hosts a YouTube channel with her friend, wherein they seem to make different video reviews of all kinds of items, from makeup to food products. The videos are entirely in Japanese, but you can definitely see more of Yuki's natural enthusiasm in them. It would seem that since Yuki left The Bachelor Winter Games, she got back to filming on the YouTube channel, the videos of which tend to do well in terms of views.
Like I said, though, I don't think fans have seen the last of Yuki, who managed to touch hearts and make friends despite the language barriers she was met with on The Bachelor Winter Games. "I want to marry a man I meet on The Bachelor," she told The New York Times via email. "Until that day comes, I will keep being on The Bachelor [shows]."
The Bachelor's executive producer Mike Fleiss also spoke to The New York Times and said that because of Yuki's experience on The Bachelor Winter Games and the way fans and her fellow contestants have responded to her, he would "like to bring Yuki back for [Bachelor in] Paradise." Traditionally, the summer show hasn't included any international Bachelor contestants in the past, but after The Bachelor Winter Games, I think it's safe to say that the door has opened for so many more potential relationships with the other contestants that it's entirely possible moving forward.
The fact that Yuki was able to make special connections and friends with so many people shows how special she is as a person. And although she went back to Japan after filming, I can't imagine a world where fans don't get to see her on another show in The Bachelor franchise.
Because of the impression Yuki made on Bachelor fans so effortlessly, there are a lot of viewers on Twitter asking for some kind of Ben and Yuki spin-off now, and while I don't see that happening right now, it does mean that the love for Yuki is very real. She may have left The Bachelor Winter Games early, but the show is clearly important to her so chances are, she'll be back in some capacity.
Check out Romper's new video series, Romper's Doula Diaries:
Watch full episodes of Romper's Doula Diaries on Facebook Watch.