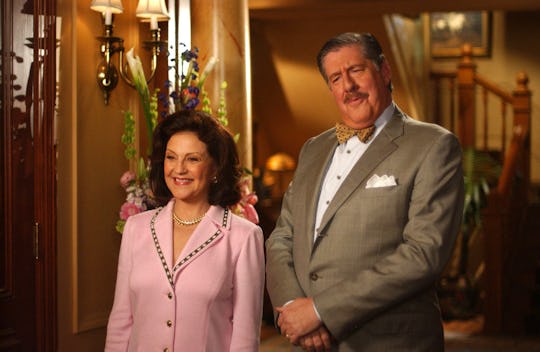 Warner Brothers
When Did Edward Herrmann Die? The 'Gilmore Girls' Patriarch Is Gone But Not Forgotten
When he was Richard on Gilmore Girls, he was the family patriarch that everyone wished they had. And before that, when he was playing Richie Rich's dad in the movie of the same name, Edward Herrmann was once again someone you couldn't help but look up to. So with the debut of the Gilmore Girls revival right around the corner, his absence is going to be greatly felt among viewers worldwide. But when did Edward Herrmann die? The Gilmore Girls star was a fan favorite for years, because of stoic-yet-lovable personality. He may not have always been int he right and butted heads with Lorelai on more than one occasion, but he always loved his family and stuck up for them whenever it was necessary. So just thinking about the show going on without him, even as a short-lived four-part series, is tough.
Herrmann died back in 2014 after battling brain cancer. He had been hospitalized for more than three weeks when his family reportedly decided that it was time to take him off the respirator. His last job before his passing was narrating the PBS documentary, Cancer: The Emperor of All Maladies, but throughout the years, Herrmann had been in more than 130 movies and TV shows. He never seemed to not be working and now that the Gilmore Girls revival is set to premiere on Netflix, it makes you wonder how Herrmann's death and absence is going to affect the other characters on the show.
In the promo for the Gilmore Girls revival, you can see Richard again as a huge framed portrait covering almost an entire wall in Emily's living room, which just goes to show how much of a looming presence he will be throughout the revival even in death. And don't get me started on how heartbreaking the funeral scene is bound to be since, in a way, it not only honors the character, but also Herrmann himself.
Clearly, the Gilmore patriarch is not going to be forgotten throughout the continuation of the series. In fact, dealing with Richard's death is obviously going to be a big part of Emily's storyline in the four-part series continuation.
Kelly Bishop (Emily) told People that because of the loss of Richard in the Gilmore Girls revival, "there was so much more heft to the scenes, and there was a lot of emotion at times," so you have to assume the loss of Herrmann in real life was channeled when the actresses were dealing with the loss of on-screen husband. Herrmann's death was felt not only by his many loyal fans, but by his TV family as well, and viewers should expect to see the loss mourned as the series progresses through the seasons of the year.