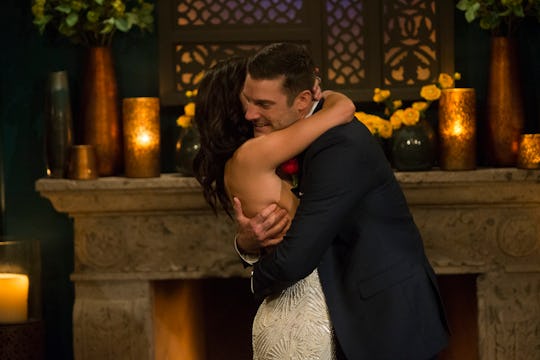 Paul Hebert/ABC
Garrett's Divorce Really Threw 'The Bachelorette' For A Loop
Regardless of what you might think about Garrett Yrigoyen, he and Becca Kufrin genuinely seem to be hitting it off this season and — dare I say it — falling for each other. Even after he revealed that he's been married before, Becca was still all about giving him that date rose and dancing terribly to country music together. She might be over it, but fans are still curious and probably wondering when Garrett from The Bachelorette got divorced. When he admitted to Becca that he was already married once to someone named Kayla Cunningham, he followed it up with the assurance that it lasted just a few months before they were divorced and that because of the way she allegedly treated him, they have remained apart ever since.
It's unclear what the real reason was for the divorce, but according to documents obtained by Radar Online, their official divorce date was March 21, 2016. Since they were married in 2015, their actual divorce was finalized more than two months after their wedding, but it's still likely that the couple split even before the divorce was final and filed away. According to the documents, they had irreconcilable differences and therefore were no longer able to live as husband and wife. They were later granted their divorce and a separation of their shared assets.
Unfortunately, as cut and dry as the divorce documents seem to be, according to friends of the former couple, things weren't that simple. A friend of Cunningham's revealed to Life & Style Magazine that after the divorce, which allegedly came as a shock to Cunningham, Garrett demanded money and "a week later, he said he wanted half of everything." The friend, who chose to remain anonymous in the article, also said that she hopes to somehow show Becca the real Garrett that both she and Cunningham know. "I want Becca to know the truth about Garrett," she said. "He's a nice guy at first, but she needs to watch out."
Contrary to that, Garrett claimed on The Bachelorette that it was because of his ex-wife's mistreatment of him that they were actually divorced. He told Becca that his ex was emotionally abusive and that she "drove a wedge" between him and his family. Obviously, this is a big case of he said/she said, so maybe fans will never truly know the cause of the divorce, but apparently they aren't the only ones.
Someone claiming to be a friend of Garrett's tweeted that she, too, has no idea why he and Cunningham were divorced in March of 2016. What we do know is that the divorce truly was more than two years before the filming of The Bachelorette season 14 began. That makes it clear that Garrett isn't guilty of treating Becca as some sort of rebound relationship. And so far, his honesty has earned him so many brownie points with her that the whole previous marriage thing seems like it's going to be a total non-issue this season.
Garrett recently came under fire for some anti-immigrant, transphobic, homophobic, and sexist Instagram likes and although he's since publically apologized for his actions, some fans still aren't sure what to make of him. Revealing that he was previously married and divorced prior to The Bachelorette is at least one right move in being totally honest and open in a good way, so there may be some hope for him after all. It's still fairly early in the season to be talking final four and hometown date stuff, but now that he's revealed the details about his short marriage and divorce to Becca, I'd say he's in this for the long haul.