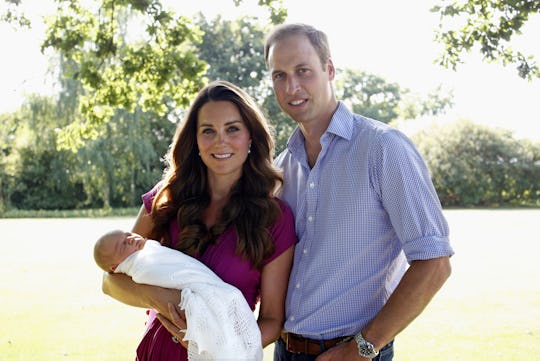 Handout/Getty Images Entertainment/Getty Images
Here's How Long Prince William & Kate Middleton Waited Until They Revealed Prince George's Name
It's been three whole days since the birth of the newest royal baby and while the world knows that he's (1) a little prince and (2) has already gotten a glimpse at his adorably chubby cheeks, everyone is still waiting for his name. If it feels like the royal baby name reveal is taking longer this time around, you're not wrong. In fact, looking back at the royal family's previous births, Prince William and Kate Middleton announced Prince George's name sooner than his baby brother's. But don't worry, this period of unknowing won't last forever.
Still, it doesn't make the anticipation any easier to handle. It feels like royal watchers have been eager for answers ever since Prince William and Middleton first announced that they were expecting for a third time. For starters, the couple chose not to reveal the sex of the baby until he was born and while they did disclose that Middleton was due in April, an exact due date was never revealed, which is totally understandable given the all the hype.
Keeping all of those things to themselves is not surprising, but what is making royal fans super anxious is not knowing the little prince's name. Because, looking back, the royal couple has usually only waited two days after the birth of their children — Prince George and Princess Charlotte — to reveal their monikers.
Back in 2013, when Prince William and Middleton welcomed their first child on July 22 of that year, they waited exactly two days before announcing his name in a statement released by Kensington Palace, as The Sun reported. On July 24, 2013, as reported by People, Kensington Palace released the following statement about the royal baby:
The Duke and Duchess of Cambridge are delighted to announce that they have named their son George Alexander Louis. The baby will be known as His Royal Highness Prince George of Cambridge.
Indeed, it was exactly two days after Middleton gave birth that the family decided to let the public in on his name. Of course, there's no telling when they actually decided on the name George for their firstborn, but they didn't let the public know until 48 hours later. The couple followed the same two-day protocol with Princess Charlotte's name.
Until the parents decide to formally announce the baby name, though, there are plenty of theories surrounding what the little one will be called. According to The Sun, the most popular name guess for the young prince is Arthur, although "James, Albert and Philip are also in the running."
At an event on Thursday, Prince William was asked if he had any updates on his new son's name, to which he simply responded that he was "working on it," according to royal correspondent Victoria Murphy. But, that doesn't mean that there haven't been some so-called clues dropped about what the baby's name could be. In fact, as People reported, a technical glitch on the royal family's website suggests that he'll be named "Albert."
Of course, a technical glitch isn't exactly hard evidence, but it is certainly interesting and does match up with some of the top name theories out there. Perhaps the royal family is getting ready to announce their latest addition's name, but wants to make sure his royal webpage is up and running properly? Whatever the case may be, his name will be revealed at some point in the near future, even if it's taking a bit longer this time around.
Check out Romper's new video series, Bearing The Motherload, where disagreeing parents from different sides of an issue sit down with a mediator and talk about how to support (and not judge) each other's parenting perspectives. New episodes air Mondays on Facebook.