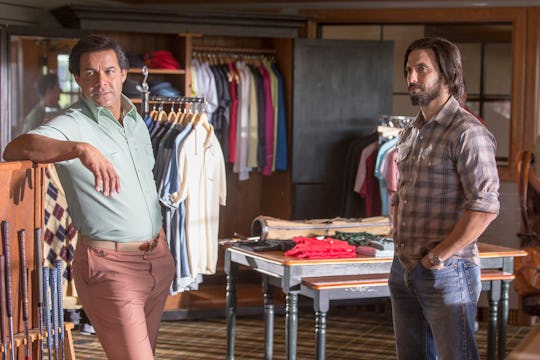 Ron Batzdorff/NBC
'This Is Us' Just Revealed An Important Detail About Rebecca & Miguel's Relationship
It wasn't long after learning that Miguel and Rebecca were married in the present day that fans found out about Jack's death on This Is Us. But since details are relatively scarce regarding how this shocking romance ever came to be, it's left many fans wondering: when did Rebecca and Miguel get together on This Is Us? Their relationship might be fairly new, as in it's definitely been less than 10 years since they became a couple and, as shown on Tuesday's episode, they only reconnected for the first time in 2007 — and it's all thanks to Facebook.
This week's episode, appropriately titled "The 20's," was all about the past with literally no scenes of the present-day Big Three or Rebecca. But since there's been enough present-day development otherwise, I think we can all let that slide. The flashbacks were more in the form of the young Kevin, Kate, and Randall on Halloween, paired alongside memories of what they were going through during their 20's, which proved to be just as much of a life-changing time in their lives. But Rebecca was also an integral part of Randall's memories, when Beth was on the cusp of going into labor with their first child and Randall was having a difficult time dealing with the pressures of impending fatherhood.
Rebecca was there to help once the baby came, though her arrival also shed some light on how she eventually found herself in a new romance — and thankfully, it began after Jack's death. She didn't have Miguel trailing after her into Randall and Beth's home, so it was clear from the start that they hadn't yet become a couple, but it also no doubt made viewers wonder about the timeline of Rebecca and Miguel's relationship.
While Rebecca and Beth bonded over Randall and the soon-to-be-born Tess, you could see that Rebecca still had a wedding band on and she was clearly missing him. Somehow the subject of Facebook came up, which inspired Rebecca to join in on the social media frenzy so that she could see and share photos of her upcoming grandchild. Cut to the end of the hour and Rebecca is seen admiring a photo of Baby Tess — just before receiving a private message from Miguel, asking how she's been for the past eight years. Based on this, it seems as though Rebecca's friendship with Jack's best friend slowly fizzled after his death, and since the message also revealed that Miguel was living in Houston at the time, he wasn't around geographically for them to have bumped into each other any other way.
So there you have it. This was the catalyst that started it all. Rebecca and Miguel must have started dating within a few years after Tess's birth in 2007 or shortly after they reconnected on Facebook. So it seems we have the powers of social media to blame for this eventual union.
It's hard to say just yet how Rebecca and Miguel got together on This Is Us, especially if he lived in Houston when he sent her the message, but chances are, it was a renewed friendship at first that turned into something more once he moved back to Pittsburgh. Obviously no one will ever quite live up to Jack because, well, he puts all dads and husbands to shame, but it seems like Miguel was able to fill a little piece of Rebecca's life that she probably felt was missing, so let's try not hate on him too much.
Watch Romper's new video series, Romper's Doula Diaries:
Check out the entire Romper's Doula Diaries series and other videos on Facebook and the Bustle app across Apple TV, Roku, and Amazon Fire TV.