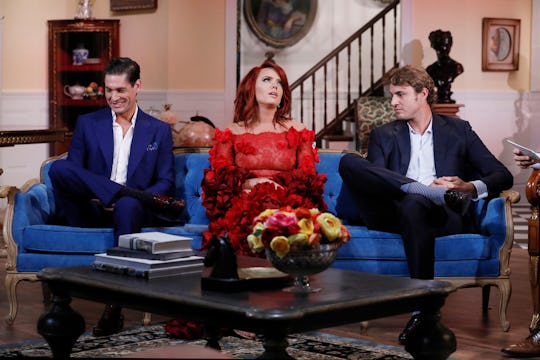 Heidi Gutman/Bravo
Kathryn & Shep's Hook Up Timeline On 'Southern Charm'
I know that the romantic relationship between two people, whether they're in the public eye or not, is totally their business and not up for debate or investigation. Then again, it's not totally out of line when the two people in question are stars of a reality show in which their relationship is a major plot point. For example, with the surprising reveal that Kathryn Dennis and Shep Rose hooked up on Southern Charm not once, but a few times, it's totally acceptable to wonder about all the details. Like, when did Shep and Kathryn hook up exactly?
Southern Charm devotees know that Kathryn and Shep once got together in Season 1. But there was no hint that they had hooked up since then until Kathryn revealed in Season 5 that she and Shep slept together shortly after her daughter Kensie was born — and then a few times more after that. Since she didn't elaborate on how many times they've seen each other romantically or how few and far in between these hookups were, the few times afterward could have been during the same year or maybe sometime in 2016.
I highly doubt there was much overlap between Kathryn's relationship with Thomas Ravenel and Shep, so it looks like she hooked up with him after Kensie was born, continued to do so for a little while until she and Thomas were on good terms again, and that was the end. Or she may have taken up with Shep again after Saint was born. But since neither has been explicit with the exact dates of their encounters, I can only speculate. Let's just assume that their post-Kensie hookup and subsequent nights (or days) together happened in 2014-2016.
Shep himself has also had some other romances along the way. Seasons 3 and 4 of Southern Charm aired in 2016 and 2017 respectively and during those seasons Shep had a kind of sort of on-again, off-again thing with former co-star Landon Clements. At times, the friends were simply flirtatious with one another, and then there were moments when it seemed like they might actually get together for real and make something more out of their friendship.
Does this new information mean that Shep and Kathryn were having clandestine rendez-vous the whole time during these seasons while Shep was contemplating a relationship with Landon? To be quite honest, I'm not entirely sure. But I'm not ruling it out.
What I can say is that he and Kathryn were probably not romantically involved during the filming of Shep's own dating show RelationShep, which premiered in December 2017 and resulted in a relationship with Bella Clark. It was a short-lived romance, but it would also make him unavailable during that time for any late night hookups with Kathryn. Again, I could totally be overestimating Shep's idea of what's appropriate to do with other women when searching for a potential girlfriend, but I don't think that I am.
Landon decided not to return to the show for Season 5 and now here we are with Shep and Kathryn potentially having real feelings for each other. And honestly, it isn't the worst thing in the world. Kathryn has been on the road to bettering herself in some major ways, from remaining sober for more than two years to being able to be a more permanent and steady fixture in her kids' lives. If Shep is ready for something serious, then I think I am seriously 'shipping these two.
I can't tell you whether these (sometime) lovebirds are endgame or not. But I can tell you that I can't wait to see how this ends.