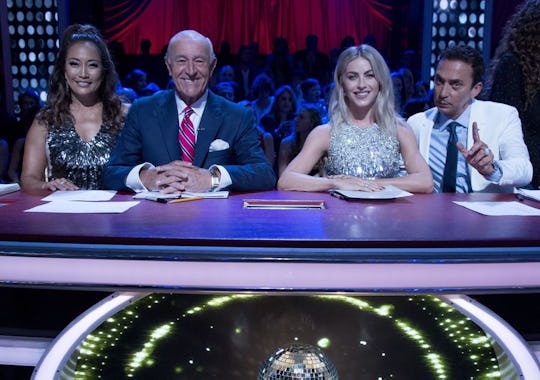 Eric McCandless/ABC
The 'DWTS' Season 25 Premiere Will Be Here Before You Know It
Summer is almost here which means another season of Dancing With the Stars is coming to an end. But luckily fans don't have to wait a year in between seasons. So when does Dancing With the Stars return for Season 25? Like the seasons that came before it, the dancing competition will likely premiere in the early fall, around mid-September 2017.
Since ABC recently released their fall schedule, viewers can take comfort in knowing that DWTS will definitely be returning to ABC on Mondays at 8 p.m. ET in its usual time slot, but the premiere date of Season 25 hasn't been announced just yet. (To be fair, it's still pretty early.) Season 24 might be coming to a close right now, but that doesn't mean it's too early to start thinking about Season 25, because viewers are no doubt excited for the show to usher in more celebrities to become dancers.
And even though there isn't a set release date yet for DWTS Season 25, history tells us that the next season will premiere at the start of fall as it has since way back in Season 3. Since the show lasts just 10 weeks, it's an easy spot in ABC's schedule and seems to have a permanent place beginning in September and then again in March, so Season 25 will more than likely be back a few weeks after Bachelor in Paradise has ended for the season.
It was recently revealed that DWTS will have a spinoff dancing competition series, Dancing With the Stars Junior, but instead of replacing the original series come fall, it's going to act as its own freestanding show, meaning that yes, fans will get a DWTS Season 25 even with the spinoff series coming into play.
As per usual, Season 24 was full of the excitement of watching celebrities become full fledged dancers who look like they can teach even the pros a thing or two (ahem, Rashad Jennings), so fans are no doubt more than ready for the next season to begin. And luckily, ABC knows that, so we won't be waiting long for the next season to premiere with a whole new set of celebrities to see waltz and tango across the ballroom floor.
Obviously the cast of DWTS Season 25 hasn't been announced yet, and probably not even picked, but there's no time like now (with the second part of the Season 24 finale fast approaching) to get excited for the next batch of stars. And the important thing is that it's coming back, period. It's just the waiting that fans are going to have to get through.