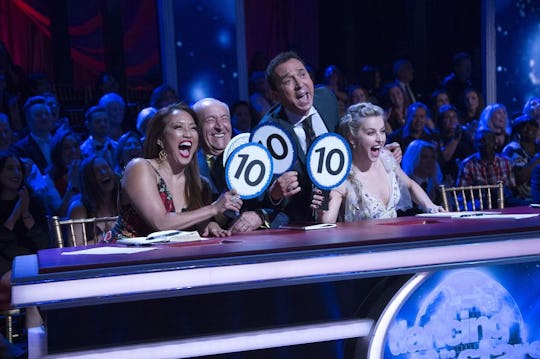 Eric McCandless/ABC
Predicting The Winner Of 'DWTS' Season 24 Is Difficult
If this season of Dancing With the Stars didn't seem like it came straight from The Twilight Zone with all of the shocking eliminations, then it might be a little easier to pick who will win Dancing With the Stars Season 24. But in reality, it's going to be a tough one to call ahead of time. Each remaining contestant got here because they worked extremely hard and gained the love of both the fans and the judges, so it could very well be a close call on the two-part finale taking place on Monday, May 22 and Tuesday, May 23.
At the beginning of the season, you may have had Heather Morris pegged for the winner, since she's obviously a talented dancer. However, she was sent packing in a surprising Week 6 elimination. And then there was Simone Biles' recent elimination, which was just as surprising. So in a way, anything can happen.
Chicago Cubs player David Ross came back swinging (no pun intended) after having a somewhat lackluster beginning of the season, but has since proven himself to be a strong competitor. So does that mean he is the deserving victor? Rashad Jennings has been called a legitimate dancer, flat out, by the judges, and he really does look like one each week. And then we have Normani Kordei, who may have experience dancing with Fifth Harmony, but who definitely didn't know how to cha-cha before she started killing it on DWTS. So, who will win DWTS Season 24, then?
My money's going to be on Kordei, because although they've all worked so hard, something in her shows how much of herself she's managed to put into this competition, both mentally and physically.
During Week 8's contemporary dance, Kordei was barefoot and much more dressed down than ever before and fans were able to really see her as she danced through her emotions from experiencing severe online bullying in the past. It was clearly an emotional moment and being able to work through those emotions through dance (and earn the only perfect score of the night) continued to show the strength in Kordei and how far she's able to come this season.
And at almost 20 years old, that's really saying something for the singer. That's not to say that Ross and Jennings haven't put themselves out there and worked hard in their own pairings to get to the finals, but Kordei stands a real legitimate shot at that Mirror ball trophy and she really deserves it too. Some might claim that she had an unfair advantage right off the bat given her prior dance experience, but learning different and highly complicated ballroom dances has still been a challenge for Kordei nonetheless.
While it's true that before DWTS, Kordei has danced, she likely has never been able to learn routines to the tango or Viennese waltz, which is a completely different talent by far. Some fans might consider her prior dance experience to be the reason to count her out for their votes, but if you look at how much of herself she's put into the competition this season, she's more than deserving of the votes and high scores she's received so far. For me, this moment of glory belongs to her.