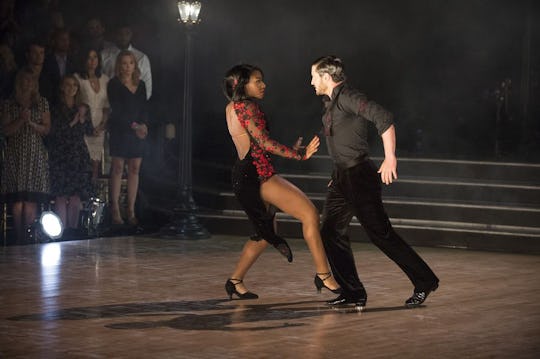 Eric McCandless/ABC
'DWTS' Helped Normani Kordei Face A Difficult Time In Her Career
Week 8 on Dancing With the Stars was all about the pros picking songs and routines for their partners that they felt symbolized the celebrities. For Val Chmerkovskiy and Normani Kordei, it was centered around the cyber bullying she was the victim of earlier in her career. But why was Normani Kordei bullied? DWTS gave her the chance the work through it Monday night and you could see the emotion before, during, and even after the performance.
It all started in Summer 2016 when, during a Facebook Live interview, Kordei called fellow Fifth Harmony member Camila Cabello "very quirky," and from there sparked the kind of outrage from Cabello's fans that make you think Kordei had lashed out horribly at her bandmate and friend. On social media, fans attacked Kordei, calling her incredibly offensive names and creating distasteful photos of her being whipped.
If it sounds like a complete overreaction to a totally harmless way Kordei referred to her bandmate, that's because it absolutely was. But the online bullying got so bad that Kordei ended up giving up Twitter altogether. In an interview with Us Weekly, she said that at first she just shut it all away and refused to look at any of the hateful comments because they hurt too much.
Eventually, Kordei returned to Twitter and helped promote the hashtag #ImACybersmiler in order to help others who are bullied and on Monday's episode of DWTS, she was able to address the issue again in her routine with Chmerkovskiy. He chose the song "Freedom" by Anthony Hamilton and Elayna Boynton and choreographed a contemporary dance for her which involved a lot of solo moves on her part. And during the entire performance, you could really feel the emotion coming from Kordei.
Afterward, judge Julianne Hough told Kordei, "I'm completely mesmerized, I'm completely right here with you" and that Kordei "created art and history" with her performance. And there's no reason to really argue with that either, or the perfect score she and Chmerkovskiy received for it. The whole point was for Kordei to be able to convey her feelings through the dance and she definitely did that. She was even emotional afterward, hugging Chmerkovskiy in a long, tight embrace.
Even though she may have moved on from it (though Kordei was bullied online less than a year ago), it was still a hard time in her career and Monday night, DWTS enabled her to work through that pain.