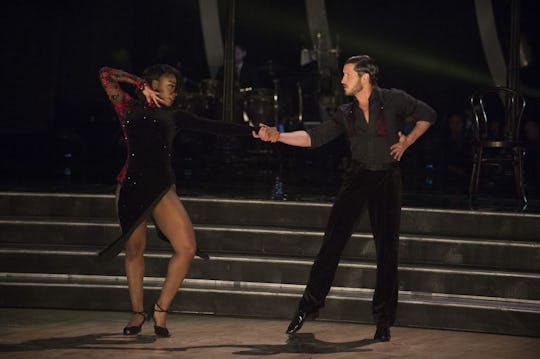 Eric McCandless/ABC
The Chemistry Between This 'DWTS' Duo Has Fans Wondering
It's hard to watch Dancing With the Stars without immediately thinking that some of the couples are actual couples off the dance floor. Obviously so much of that is wishful thinking, but for some of them, like Bonner Bolton and Sharna Burgess, the chemistry is so strong when they're dancing that it makes you wonder. But they aren't the only couple to stand out on the ballroom floor when it comes to chemistry. So are Normani Kordei and Val Chmerkovskiy dating?
The DWTS duo have seemed so hot together since the beginning of the season and although there have been other couples with similar fire between them, it's hard to ignore that maybe, possibly, eventually, something could happen between these two. On the show, Kordei has playfully said that Chmerkovskiy isn't her type and that she's not into him, but it's always possible this could be just a red herring (or maybe just wishful thinking on my part).
Even during rehearsals, the pair seem to be so in tune with each other that it's hard to ignore. So even though neither have confirmed as much, it's hard not to wonder if Kordei and Chmerkovskiy are dating after meeting on DWTS. He even had to travel back and forth with Kordei as she finished up her tour when Season 24 of DWTS began, and all those late nights of impromptu rehearsals had to bring them a little closer together, right?
If Chmerkovskiy and Kordei end up dating after DWTS, it definitely wouldn't be his first time mixing business with pleasure. Even though he wasn't Amber Rose's partner for Season 23 of DWTS, Chmerkovskiy dated her for several months following the season and for a while, they were a legit couple. Obviously Chmerkovskiy has no problem finding romance on DWTS, and with the way he and Kordei kill it on the ballroom floor every single week, with sexy and virtually flawless moves, it's not totally odd to suggest that Chmerkovskiy and Kordei may be a thing now.
Of course, there's the whole age gap thing, though, with Kordei's 21st birthday right around the corner and Chmerkovskiy having just turned 31, but the DWTS couple definitely leave you wondering, Sharna Burgess and Bonner Bolton who?
In some of the DWTS behind the scenes photos on Just Jared Jr., it's hard to ignore that if there's something going on between Kordei and Chmerkovskiy, it would make total sense. Age gap aside, finding chemistry on the ballroom floor is half the battle and where it could all start for the two of them. In the meantime, fans can dream, right?
In an April interview with Billboard, Kordei spoke highly of her partner and even though it might be totally platonic and all business between the DWTS duo, she obviously thinks highly of him, stating:
He's dope. I have to say he's a cool guy. Like inside and outside of rehearsal, he's helped me in so many ways. Like even at the first one, I overthink a lot — and, ultimately, when we watch our videos after every live show, we are super proud because we know how hard we worked. He pushes me to the limit.
Whether Kordei and Chmerkovskiy are dating or not, it's still been fun to watch their dynamic both on and off the ballroom floor and if their high scores are any indication, fans will be watching them for the duration of the season.