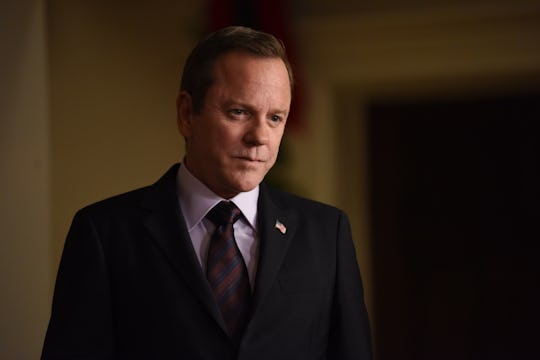 John Medland/ABC
You Won't Want To Miss 'Designated Survivor's Midseason Finale
When you're a new series on network TV, the competition can be pretty stiff and for some, they don't get past the first few episodes, let alone the first season, before getting the axe. For ABC's Designated Survivor, though, which had a full season order just days after the series premiere back in 2016, it's been a hit for primetime television. But since ABC is notorious for long breaks, when does Designated Survivor return? The midseason finale is here and although that no doubt means an exciting fall finale, it also means that there is likely a long wait ahead.
Granted, that depends on what your definition of "a long wait" is, but the season is scheduled to return on Feb. 28, meaning you have over two months of waiting in your future. It shouldn't come as much of a surprise, though, since Season 2's schedule has followed the same pattern as last year, which saw Season 1 return from its midseason break in March. I know, that's a long time to wait to see Kirkman continue to fight the good fight, but that could also mean fewer breaks once the series comes back. So that's one positive way of looking at it, though I'll admit that waiting always sucks, regardless. But even so, it could always be worse.
So far for Season 2, Designated Survivor has managed to keep its viewership near 4 million each episode, which is an accomplishment in itself for such a new show. And while having to endure any kind of hiatus of your favorite show is never easy, it's become much more common for shows to go on longer breaks when the holidays roll around.
Grey's Anatomy and Scandal for example, which are both ABC shows, went on their winter breaks in November and aren't due to return until January, around two months later. While this is also less than ideal for most fans, it makes it possible for the shows to bypass the busy holiday season as well as most of the NFL season, which is also beneficial for Designated Survivor's break.
The midseason finale itself is almost guaranteed to bring the wow factor to viewers, as both Kiefer Sutherland and showrunner Keith Eisner have said on two separate occasions. Back in May, Sutherland spoke about Designated Survivor's next season at ABC's Upfront presentation and promised at the time that fans could expect a "midseason event that I believe will knock the socks off of our audience" for Season 2. And Eisner echoed those sentiments recently when he spoke to TVLine about the midseason finale. "We have been thinking about this [storyline] for a very long time," he revealed. "It's uncharted territory for a television show."
Eisner also teased that because of all of the drama and revelations that have come about so far this season, fans can expect a monumental midseason finale. "A big shoe dropped, and that was the revelation that Damian may not be who he said he was," Eisner explained, adding:
Hannah's very compromised, because she made a mistake that a lot of agents try to avoid but many make, which is she got involved with someone she's been working with. That has cast her professional behavior under suspicion, creates conflict with [National Security Advisor] Aaron, and sets up a pretty shattering confrontation with Damian — one that's fueled by feelings of both personal and professional betrayal.
Since plenty has happened so far this season, there's going to be a lot of ground to cover in what is apparently going to be a memorable midseason finale. It almost makes it a little easier to have to potentially wait until February for the rest of the season — almost.
Check out Romper's new video series, Romper's Doula Diaries:
Watch full episodes of Romper's Doula Diaries on Facebook Watch.