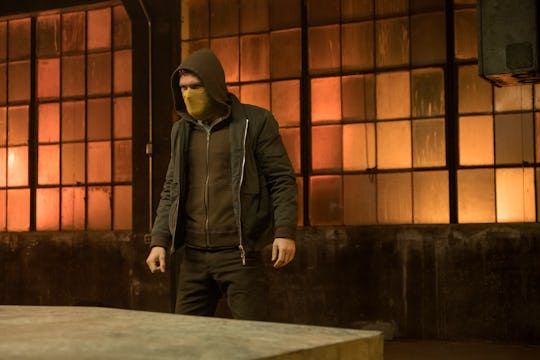 Linda Kallerus/Netflix
Fans May Be Waiting A While For New Episodes Of 'Iron Fist'
So you've watched the entire Season 2 of Iron Fist in one sitting and now you don't know what to do with yourself? Netflix is both a blessing and a curse in the way it releases most seasons of beloved TV shows all at once, as opposed to the weekly schedule that TV networks typically follow. And now that Season 2 is out, fans are probably wondering when Iron Fist Season 3 premieres. Right now, there hasn't even been an announcement about the renewal of Iron Fist for Season 3, but chances are, it would premiere around this time next year.
You can look at the premiere history of most Netflix shows to determine when the following season will begin. While it may not necessarily be accurate for all Netflix Original shows, others do premiere around the same time each year. Like Daredevil, for example. Its first season premiered in April 2015 and was followed by Season 2 in March 2016. Orange Is the New Black is another Netflix Original that premieres around the same time each year. Each of the six seasons has premiered in either July or June of their respective years
Going by that logic, Iron Fist Season 3 would likely premiere in September 2019. Its first season premiered in March 2017, but since Season 2 premiered in September, I doubt that if Iron Fist is renewed, Season 3 would premiere as soon as March 2019. In terms of a typical TV schedule, that just seems way too soon.
As it stands, Season 2 already seems to be better received than the show's first season. Season 1 had an average critic rating of 4.2/10 on Rotten Tomatoes, with 58 of the 72 critics labeling it as "rotten" rather than "fresh." This resulted in just 19 percent of critic reviewers giving a positive response to the season. On the flipside, Season 2 of Iron Fist has already done better on Rotten Tomatoes.
As of right now, it's 64 percent fresh, with nine of the 14 critic reviewers labeling the season as "fresh." Now, that number could change as viewership of Season 2 increases, but it's off to a much better start. This could mean that although Iron Fist hasn't been renewed for Season 3 just yet, there's at least a decent chance that there will be a Season 3.
It's certainly not unusual for a Netflix show to have something of an uncertain future, even with expectations high. Another Marvel series, Luke Cage, hasn't yet been renewed for a third season either, but the writers are reportedly already working on a Season 3 script. Not long after Season 2 premiered in June, Deadline reported that Luke Cage writers were working on a script at the time. But Netflix's vice president of original content, Cindy Holland, also said that there weren't any concrete decisions made on Luke Cage Season 3 at the time. That being said, it seems normal for a Netflix show to be in a state of limbo between seasons, much like Iron Fist is right now.
Given the show's history and the fact that Season 2 premiered in September, it makes the most sense that if Iron Fist is renewed, Season 3 will premiere in September 2019. There are a lot of contributing factors to a renewal, like viewership and how the season is received by critics this time around. If viewership continues to rise and Season 2 does better in the eyes of TV critics, then maybe Season 3 will even be bumped back up to a 13 episode order. Right now, however, things remain uncertain.