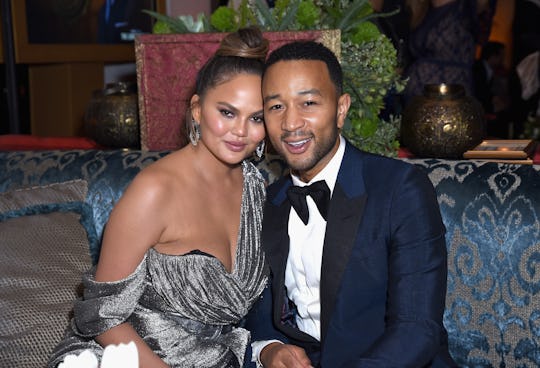 Presley Ann/Getty Images Entertainment/Getty Images
ATTN: America's Favorite Parents, John Legend & Chrissy Teigen, Will Host A Holiday Special
I know you're still in the thick of things with Halloween. If you're anything like me you're still trying to pull together some DIY costume that seems creative and simple, but actually has 12 hours of Pinterest scrolling behind it. But think forward just a little — to Christmas, that other glorious holiday season. It might seem like I'm jumping the ship here, but I have good reason. Chrissy Teigen and John Legend's first holiday special ever is set to air in the coming weeks, and you're going to want to plan your life around it.
On Thursday, NBC confirmed that Legend and Teigen are planning to host one of those great classic Christmas specials everyone loves. You know the type — a variety show where people sing songs and maybe do a little comedy act and pretend to show up to visit each other for the holidays. I have no clue if that's what is on the agenda for the Legend and Teigen, but a girl can dream, right? Because I simply don't see the sense in giving the Cravings: Hungry For More cookbook author a stage if you're not going to allow her to be at her most charming.
The good news is you don't have to wait too long to find out. As The Wrap reported, the special is called A Legendary Christmas With John & Chrissy and is scheduled to air on NBC on Nov. 28.
The NBC special is expected to run for one whole blissful hour, according to The Wrap, and will of course feature Legend belting out Christmas tunes from his upcoming album, A Legendary Christmas, which will drop on Oct. 26.
But don't expect this special to be all about Legend. As TODAY reported, friends and family members of the famous couple are expected to join them on stage and you know what this might mean? A little visit from that feisty daughter of theirs, 2-year-old Luna Legend, as well as 6-month-old son Miles. Plus Teigen's mom, Vilailuk Teigen, who is always a fan favorite.
Realistically speaking, this could also mean that a Kardashian or two could show up for the special since Kim Kardashian-West, Legend, and Teigen are longtime friends.
Beyond performances from Legend, which would honestly be enough of a draw for most people, TODAY also reported that a few more "well-known" entertainers would be signing on for A Legendary Christmas with John and Chrissy, although the names won't be announced until closer to the date.
I'm starting to think that Chrissy Teigen is a real-life Santa Claus. She always seems to be doing something I love, whether it's releasing a cookbook that I actually use all the time or starting a cookware line at the closest thing we have to the North Pole, Target, she just keeps giving us exactly what we want. And I don't want to build up too much false hope for A Legendary Christmas with John and Chrissy, but I think it's safe to say this is going to be the best thing that's ever happened to Christmas. Ever.
But no pressure.