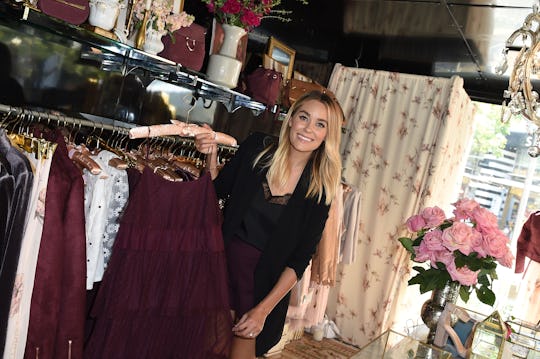 Joshua Blanchard/Getty Images Entertainment/Getty Images
Here's When You Can Finally Buy LC's Maternity Line
It's an exciting time for Lauren Conrad, who's not only expecting her first child but also launching a few clothing lines. Her summer resort line is already on sale at Kohl's, but when does Lauren Conrad's maternity line come out? Like her resort line, LC Lauren Conrad Maternity will be sold exclusively at Kohl's starting Wednesday, June 7.
Conrad is very proud of her maternity line, mainly because it doesn't look like traditional maternity clothes, which are, let's face it, not as fashionable as the women wearing them sometimes. But comfort is also important.
"I had some pretty strong opinions about silhouettes. We definitely wanted to include a lot of dresses, mostly because at the time this was coming out, I basically lived in dresses — they were the most comfortable for me and were the easiest fit-wise," she said. If you're in a warm climate, they really can be the most comfortable things out there, and LC has leggings that you can throw under them in colder months, too.
Conrad told People, "One of the things I really struggled with when I was shopping was that I wanted to maintain my everyday style, but I had trouble finding the types of pieces available in maternity collections." Conrad also wanted to make sure that women felt comfortable in their own skin — and fashion forward, too.
Smartly, Conrad waited for a long time to do a maternity line, so that she was sure she could create clothes that pregnant women would actually want to wear. If one hasn't been pregnant before, that's not the easiest thing to do.
Conrad said, "It was really nice to go in to this while I was trying to figure out my own maternity style, so I really wanted to make sure that the aesthetic of this line was very cohesive with the existing LC Lauren Conrad collection." But if you're looking to hide behind baggy dresses, think again.
A lot of the pieces are body con or cinched as opposed to "tent like pieces," Conrad said of the line. There are "off-the-shoulder flirty tops," too, which is a common trend in the Lauren Conrad resort line. That line also has mix and match bathing suits, flow-y cover ups, and flirty tops that could also work for a changing body. Either way, Conrad has women's backs this summer and fall.
If you want to make sure you can scoop up some of the hottest pieces, set your alarm clocks for early Wednesday morning. The collection will be available online and in select stores, so you might be better off shopping from the comfort of your own bed.