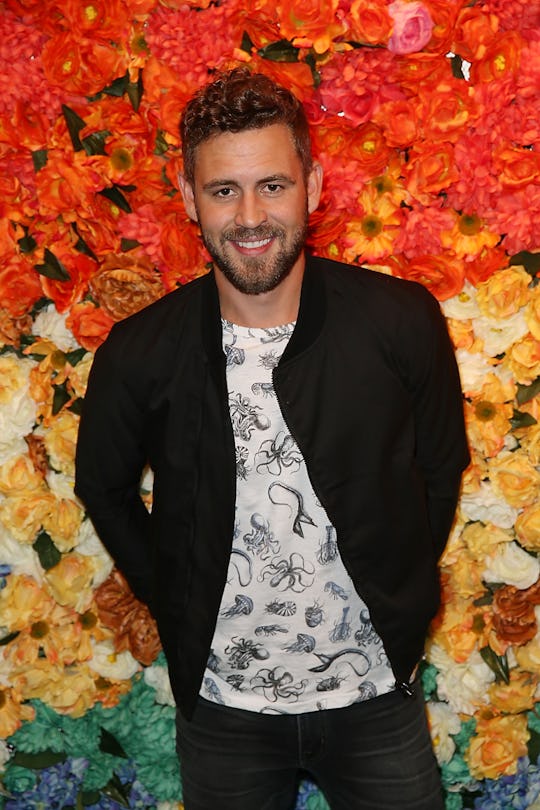 Joe Scarnici/Getty Images Entertainment/Getty Images
When Does Nick Viall's Season Of 'The Bachelor' Begin Filming? They're Casting For It
You're totally allowed to be excited and take a moment to bask in Tuesday's announcement that Nick Viall will be the next Bachelor, but now it's time to get down to brass taxes. So, when does Nick's season of The Bachelor begin filming? Since they're currently still casting and the show typically airs in January, we've still got a little ways to go, but chances are, The Bachelor will start filming this fall. To be ready, everything has to be finished and edited in time for a January release date, so really, they should probably get finished casting and get busy filming the new season of The Bachelor.
Season 21 of The Bachelor will see Nick setting out to date 25 lucky women who likely already know plenty about him, given that he's been a Bachelorette contestant twice and is currently on Season 3 of Bachelor in Paradise. But if the women have seen him do his dinosaur walk on the beach in this too-short striped swim trunks and still love him, then more power to them. Really, though, Nick as the next Bachelor has been a long time coming and although it would have been nice to see Chase McNary or Wells Adams get another chance at finding love, this works. Also, he actually has a personality and has proven himself to be far from a cardboard cut out.
But when does filming begin for The Bachelor? As producer Elan Gale has tweeted, casting for Season 21 of The Bachelor is still currently underway, so there's still some time before the new season begins filming, but likely not much. (Romper reached out to Elan Gale for a comment but did not hear back in time for publication.) If Nick and his 25 contestants are planning to spend three months getting to know each other and somehow falling hopelessly in love, then filming for The Bachelor should probably start sometime in September, which gives everyone enough time to fight, fall in love, break promises, spy on each other, and pout over not getting one-on-one dates with Nick. You know, the usual.
Once Bachelor in Paradise ends, which will be in a week or so, we've probably got a little more to see of the cast and then, presumably, filming can begin for Season 21 of The Bachelor and Nick can finally find someone to fall in love with without a Josh Murray creeping nearby.