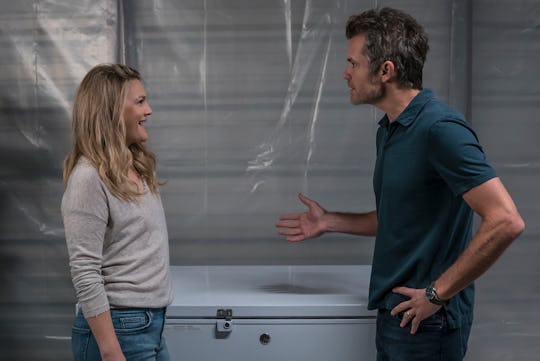 Saeed Adyani/Netflix
Here's Why A Third Season Of Netflix's 'Santa Clarita Diet' Could Totally Happen
When Santa Clarita Diet premiered, it was the fresh take on zombies that TV hadn't had in a while. Don't get me wrong — The Walking Dead has its upsides for sure, but there's something about a dark comedy that makes it fun to watch all of the blood and gore. A renewal for a second installment of the series came shortly after the first premiered, so now it begs the question: when does Santa Clarita Diet Season 3 premiere?
Although there has not been an official announcement from Netflix yet about the future of the series, usually Netflix originals carry the same general premiere date every season. So if Seasons 1 and 2 premiered on February 3 and March 23, respectively, then fans can expect Santa Clarita Season 3 to premiere sometime around March of 2019. The renewal for Season 2 actually came at the end of March 2017, almost two months after the series premiered, so there's still plenty of time for the show to be renewed once again.
While Season 1 was mostly about Sheila's sickness giving way to her undead state, Season 2 was about learning more about the virus and figuring out how to still live as a family while dealing with the possibility that others could contract the same virus that had her projectile vomiting at the beginning of the series. So there's definitely a lot of places the writers could go with a third season and it would likely premiere sometime in March 2019.
Ahead of the Season 2 premiere, Timothy Olyphant (who plays Joel, Sheila's husband) revealed to The Hollywood Reporter that the season would focus partly on their marriage and how their relationship could continue to grow while covering up dead body parts together and also trying to figure out the cause and potential spreading of the virus. "Joel is determined to try to figure out how this happened and hopefully keep it from happening to anyone else," he said. "Essentially save humanity. You know, keep the marriage together, keep it working, keep the family together and oh, by the way, if you can, save humanity."
Clearly that was a big part of the shows second season, but with just 10 episodes to get into it, there's more than enough room for several more 10-episode seasons of Santa Clarita Diet to continue exploring the world of zombies in a not-so-bleak sort of way.
At the very least, both Drew Barrymore and Olyphant are totally game for a third season, if and when the show is renewed. Barrymore told Variety that in regards to a third season, she's "available and eager" while Olyphant told the outlet, "This is it for me. I like this job. If I can figure it out, I'll call it a day."
Barrymore also added that, "If this show went on for a long time, that would be the most comforting thing in the world." So if the talent is already on board, I don't see why Santa Clarita Diet wouldn't be renewed yet again, especially as it's a unique take on the zombie culture that Netflix hadn't really tackled before. And as long as it's renewed, Season 3 should premiere around this time next year with another batch of 10 episodes that we'll all go through in the span of a weekend.
Somehow, Season 2 of Santa Clarita Diet was even more exciting than the show's first season and only developed the characters more, which makes you hope that there will be a third season again next year. It hasn't been officially renewed yet, but there's a good chance that fans will be able to watch Sheila's slow deterioration and Joel's continued shock for a least another installment or two.
Check out Romper's new video series, Romper's Doula Diaries:
Watch full episodes of Romper's Doula Diaries on Facebook Watch.