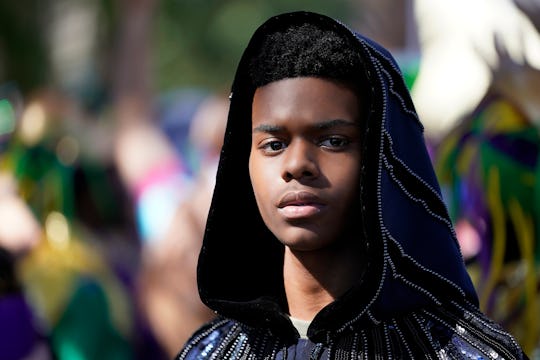 Alfonso Bresciani/Freeform
Cloak & Dagger Season 2 Can't Come Soon Enough
With the finale of Cloak & Dagger's inaugural season upon us, fans are probably already wondering where the show goes from here. The last episode of Season 1 will likely end on a Marvel-sized cliffhanger, but when does Season 2 of Cloak & Dagger premiere? Even though the first season was given the typical (by today's standards) 10 episodes to kick things off, it seems like it was just yesterday that Tandy and Tyrone's powers were activated. Now, things are more intense than ever. Since Thursday night marks the season finale when it all comes to a head, naturally there is concern about Season 2.
Unfortunately, there's no premiere date set just yet, but there is going to be a second season. In fact, Freeform announced online and Marvel TV's Jeph Loeb confirmed at San Diego Comic Con that Cloak & Dagger Season 2 will premiere in spring 2019. That's certainly good news since that means that less than a year from the Season 1 finale, fans will be reunited with Tyrone and Tandy. With the way the season has played out so far, chances are, there will be a whole new mess for the young superheroes to get into when Season 2 premieres.
Even though the Season 1 finale of Cloak & Dagger doesn't mean the end of the show as a whole, there will be a post-credits scene, a là most Marvel movies these days. Showrunner Joe Pokaski told Collider that while some storylines will be tied up, others will still remain open going into Season 2. "I think there will be places where we're leaving some stuff open, intentionally, but there's also something tremendously definitive, in our post-credits sequence, that will help define some of the drive," he revealed.
Pokaski also said that the plan is to take the show as far as it can go, which is good news for viewers who have become fast fans of the characters. "There is a definitive plan for five seasons, and then leaving ourselves open for more opportunities and for Disney to buy more corporations that free up more characters."
Tandy and Tyrone first appeared in the comic Peter Parker, the Spectacular Spider-Man #64 in 1982. So if someone even slightly resembling a Peter Parker type makes an appearance, I know I won't be the only viewer fangirling.
Going into the season finale, Tyrone is framed for Fuchs' murder and Tandy is on a self-destructive streak that could end badly. I don't see either character going down a dark path just yet, especially since there will likely be plenty more seasons to the series, but the finale is sure to be intense. One of the biggest questions that have weighed on fans' minds since the start of the series is if Tyrone and Tandy will ever get together. It was teased ever so slightly during Season 1 and Season 2 could take that a step further.
Right now, they're both doing their own things, romantically speaking, but according to Olivia Holt, who plays Tandy, at San Diego Comic Con, that's entirely necessary for the time being. "I understand that everybody wants them to be together, but, for me, I feel like it's so important, when I watch the show, to be able to respect and appreciate a character as an individual," she told Den of Geek.
She did note, however, that "everything just sort of keeps leading them back together." So never say never, Tandy and Ty shippers. Thankfully, fans won't have to wait an unbearable amount of time for the Season 2 premiere of Cloak & Dagger. But right now, the official date hasn't been announced.