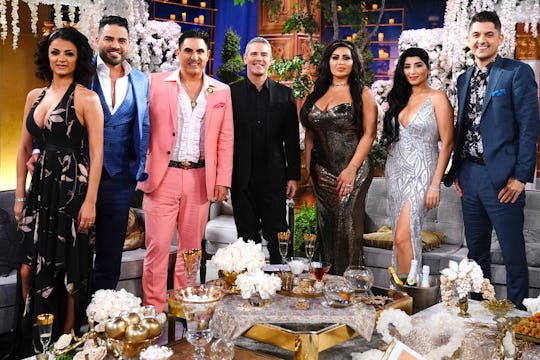 Nicole Weingart/Bravo
Fans May Be Waiting A While For The 'Shahs Of Sunset' Season 8 Premiere
Although Season 7 of Shahs of Sunset has been a full 15 episode season, the storylines are never really over and I know I'm not the only one wondering when Season 8 of Shahs of Sunset premieres. There hasn't been an official renewal just yet, but it hasn't been cancelled either, so there's always hope that the Bravo series will come back next year. The exact date, however, is anyone's guess at this point.
In the past, season premiere dates have been pretty sporadic with no real rhyme or reason to them. Season 2 and 3 each premiered almost a year apart in December and November, respectively. Then, Season 4 and 5 premiered in March and April of their years. The past two seasons brought summer premiere dates, so it's possible that Season 8 of Shah of Sunset could premiere in June or July of 2019 as long as the Bravo TV schedule at that time allows for it. But as fans have seen with past seasons, the date could really be in any 2019 month that works for the network.
Most of the cast went through a lot throughout the course of Season 7, so much so that it could have easily spanned more than one season to cover everything. Mercedes "MJ" Javid lost her father while planning her long-awaited wedding and grew closer than ever with Reza Farahan because of it. Then there was the Shahs of Sunset newbie Nema Vand, who came in hot and almost immediately zeroed in on newly single GG, who wasn't as interested in him as he was in her.
Despite what looked like some serious chemistry leading up to something big, nothing happened between them. But their flirtmance, if you will, was part of what caused Nema to break things off with his live-in girlfriend of five years. During the Season 7 finale, Destiney Rose talked about how all of their lives are changing and evolving and this could be the perfect jumping off point into Season 8 with everyone taking big steps into adulthood. This coming after she embarked on a journey to find her estranged father.
Now, outside of the show, MJ and Tommy Feight are expecting their first baby together and GG has mentioned motherhood herself. In August, GG told Entertainment Tonight that she hoped to find someone to father a child for her but not enter into a romantic relationship with. "I'm looking for some very healthy sperm," she said, half jokingly at the time. Our favorite hot messes are suddenly growing up and Season 8 could be where we really see them all adulting big time.
Although no one has really spoken out about Season 8 or if it will happen at all, filming could be underway. MJ revealed to Us Weekly that she's expected to give birth in May 2019 and since her wedding was in April 2018 and was filmed for the show, production could continue in the same schedule. It would make things come full circle for MJ and Tommy and really show how much the cast has grown overall.
Unfortunately, it's all speculation at this point, but I can't imagine Bravo giving the cast a two-part reunion if there wasn't the hope or plan for Shahs of Sunset to return. Until the official announcement comes, all we can do as fans is social media stalk the cast and keep up with their lives off camera. It's just a matter of when Season 8 premieres and the hope that it will be back in time for next summer.