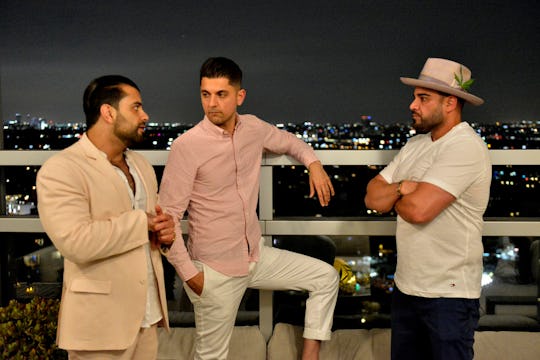 Jerod Harris/Bravo
'Shahs Of Sunset' Season 8 Wouldn't be The Same Anymore Without Nema Vand
Shahs of Sunset Season 7 began with the introduction of Nema Vand and his sister, Mona. While she hasn't been a prominent cast member this season, Nema has fallen in with the rest of the group like he's been here all along. Since he quickly bonded most of them, fans are probably wondering if Nema Vand will be back for Season 8 of Shahs of Sunset. His crush on Golnesa "GG" Gharachedaghi is what made him memorable at first, but he managed to slide in with the rest of the cast faster than he probably slid into GG's DMs.
Another part of what gave Nema his "in" with the rest if the group was being bros with OG cast-member Mike Shouhed. His attempted love connection with GG didn't really pan out further than some heavy flirting, but Mike and Nema seem to be BFFs now. So it would make sense if Nema came back for Season 8 of Shahs of Sunset. Right now, there hasn't been a word on if the show will be renewed or not, but if it comes back, my money is on Nema being one of the core cast members for his second season on the show.
While it's unclear of Shahs of Sunset Season 8 will happen or if Nema will be back, he's certainly taken to his newfound reality TV mini stardom. He refers to himself as "The Fresh Prince on #Shahs" in his Instagram bio and he's posted a ton of photos of himself with his "squad" from the show, so he's definitely in it for the long haul if they'll have him. And given his friendship with Mike, which has only gotten stronger throughout the season, he should be welcomed back with open arms if there is a Season 8.
In an episode of Watch What Happens Live, Mike and Nema opened about their friendship, which they admitted feels more like family than anything. "I think when you come into this, I think you're always gonna be a little protective as a group of friends because it's a very special group," Nema said. "And when I met [Mike] initially, it was — we're bros instantly. Brothers are gonna push back, we're gonna fight. It's really brotherly love."
During the same episode of WWHL, Nema revealed that his biggest regret this season was that his flirting with GG seemed one-sided and he hoped to clear things up about that during the reunion. It also smells like unfinished business come Season 8, so he can't leave fans hanging who *need* to know how the GG and Nema saga continues.
Since filming for Season 7 ended, Nema and most of the rest of the cast have still spent tie together off camera. If they really have gotten close outside of the show and Nema already feels comfortable being on the show and spending time with them otherwise, there's no reason to think he won't be back for Season 8 next year. Of course Shahs of Sunset has to be renewed first, but I don't see that being a problem. Viewership this season has remained steadily near the one million mark, similar to the numbers from previous seasons. If that's enough to keep Shahs of Sunset afloat in recent seasons, then an announcement about a Season 8 renewal could come in the next few months. And as long as the show comes back, Nema will more than likely be part of it. If only to continue to charm his fellow cast members.