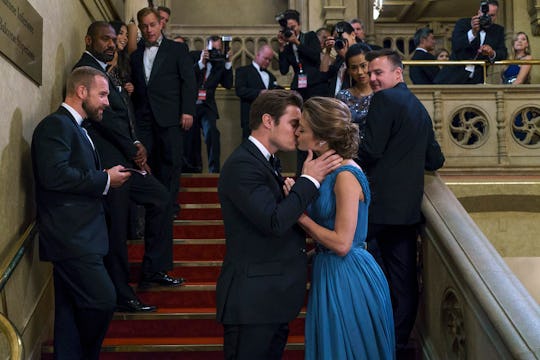 Daniel Power/E! Entertainment
'The Arrangement' Will Be Back With Even More Drama
E!'s second scripted series has found success. The Arrangement, which follows the contractual marriage between a Hollywood superstar and an upcoming actress, has been renewed for a second season. So, naturally, many fans already want to know when does The Arrangement return for Season 2? Unfortunately, it's a bit early for the premiere date to be announced, but based on the release date of the first season one can assume it'll return sometime in the winter and/or spring of 2018.
The popular series stars Josh Henderson as the superstar Kyle West who falls in love with Megan Morrison, played by Christine Evangelista, when she auditions for a film in his newest movie. But while their feelings for each other are real, their plans for marriage are not. Kyle is a part of The Institute of the Higher Mind — which is totally not a reference to Scientology or anything. Kyle is good friends with Terence Anderson (Michael Vartan) who runs the Institute alongside his wife Deann (Lexa Doig).
Seemingly looking out for Kyle's best interests, it's Terence who suggests the contract marriage and because of her feelings for Kyle, Megan agrees. However, both Kyle and Megan have secrets and as they continue to play the perfect couple for the cameras, their relationship gets more and more messy behind the scenes. Especially because the Institute has some skeletons in it's closest as well.
The show got a lot of attention when it first was announced because of the similarities not only with Scientology but also with the infamous marriage of Katie Holmes and Tom Cruise. It is widely believed that Holmes entered into a marriage contract with Cruise, just as Megan does on the show. Both Megan and Holmes got their start working on TV, both Kyle and Cruise are big movie stars and they're both very close to the leaders of organizations. However, the cast continued to claim that any connections to Holmes and Cruise were purely coincidental. Whether fans believe this or not, it's clear they love the show and why wouldn't they?
The Arrangement is filled with mystery, drama, romance, and a bit of action. It also shows a darker side of Hollywood that isn't often seen in TV shows, making it even more fun to watch and question how much of the show is based on stuff that has actually happened.
Fans can continue to get to know these characters and see where the story goes from here in the second season.