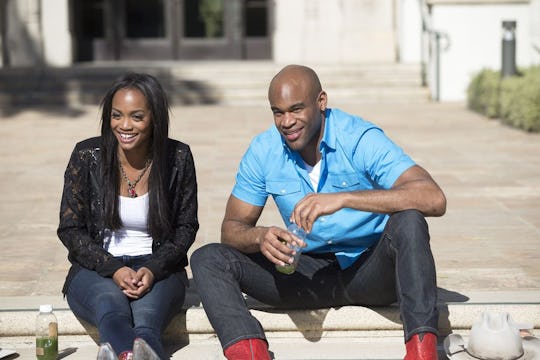 Paul Hebert/ABC
Rachel's 'Bachelorette' Journey Has Been Temporarily Put On Hold
When you're working through a couple dozen men to find your soulmate, there's no time for breaks. Luckily, Rachel's season of The Bachelorette has already finished filming, but with a show like this, fans don't take kindly to random breaks in their regularly scheduled rose ceremonies. So when the realization struck that there would be no new Bachelorette episode on Monday, June 12, I'm sure you (like myself) were totally bummed and left to wonder when The Bachelorette Season 13 will return.
Rachel Lindsay is on a quest to weed out the duds and find the worthy guys within the group she was given for her season, so getting interrupted from that journey is just uncool. Right now, the NBA Finals are in full effect and Friday June 9 marks Game 4. Since the Golden State Warriors are currently at three wins out of the possible seven-game cycle, they're at an advantage. If they win game four, then it's over and there will be no need for Game 5 on Monday June 12.
But even if that's the case, ABC is set to air their usual programming of The Bachelorette in its usual time slot, but as a re-run rather than a new episode. So regardless, it looks like June 19 is when The Bachelorette Season 13 will return in full force.
I know, how dare you, basketball. As someone whose hometown team is in the finals, I should probably be more excited, but more than anything, I'd rather have sports not interrupt my favorite shows.
In all fairness, a two week break from the most recent episode isn't the end of the world, but when you have cliffhangers going on like Lee and Eric's feud and the drama in general that has already come out between the men, it can seem like a lot longer. But The Bachelorette being held off for the NBA Finals isn't new and has gone through a similar break in past seasons. Does that make it any easier to deal with as fans wait to hear who goes home next on The Bachelorette? Of course not.
After all, it was the promo for Episode 4 this season that showed Rachel in tears, meaning that so much drama and possibly heartache is ahead that The Bachelorette taking a break for just one more week might be difficult to stomach. The good news, though, is that after the initial break to accommodate the NBA Finals, The Bachelorette should have no other interruptions this season. Meaning that when it returns on June 19, fans will be able to watch Rachel's love story play out week after week.