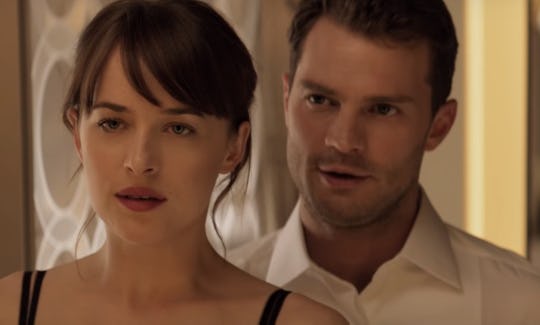 Universal Pictures
When Does The 'Fifty Shades Darker' Soundtrack Come Out? We're Going To Be Waiting A While
Two years ago, around this time, we were all mentally preparing for the introduction of Christian Grey and Anastasia Steel in Fifty Shades Of Grey, so it only makes sense that now that we have the trailer for Fifty Shades Darker, we're all clamoring for more information fast. Like, when does the Fifty Shades Darker soundtrack come out? As we can all see from the newly released trailer, the music is what's working in setting up the mystery surrounding Anastasia and Christian this time around. Don't get it twisted — there will be plenty of blush-inducing, face-covering sex scenes, but there will also be more to the story this time around, which is why the music is so important in setting up each scene.
So, when does the soundtrack for Fifty Shades Darker come out? Unfortunately, the official release date has yet to be announced, but then again, the trailer and release date for the actual movie have only just come out, so there's no need to panic just yet. Albums typically come out on Tuesdays and earlier this year, the soundtrack for Fifty Shades of Grey was released on Feb. 10, which was the Tuesday just before the movie's release. So if that is any indication of what we can expect this time around, then the soundtrack for Fifty Shades Darker should be coming out on Feb. 7, three days before the Feb. 10 release date of the movie.
So far, the most notable track on the Fifty Shades Darker soundtrack is going to be Miguel's cover of Beyoncé's "Crazy In Love", but judging by the previous soundtrack in what will be the movie trilogy, there are probably going to be plenty of other hits that already work or are going to find themselves catapulted to larger masses of listening ears thanks to the movie.
Last time, thanks to the Fifty Shades of Grey soundtrack, The Weeknd's "Earned It" received a lot of attention and Grammy buzz as well as Ellie Goulding's "Love Me Like You Do." Now, those may have eventually garnered more fame regardless, but Fifty Shades of Grey helped make that happen and even those who weren't crazy about the movie have to admit that the soundtrack that spawned from it was kind of great.
The soundtrack for Fifty Shades Darker likely won't be released until a few days before the movie comes out on Feb. 10 next year, but that still means we'll get to enjoy the music before the movie, so that's something at the very least, right?