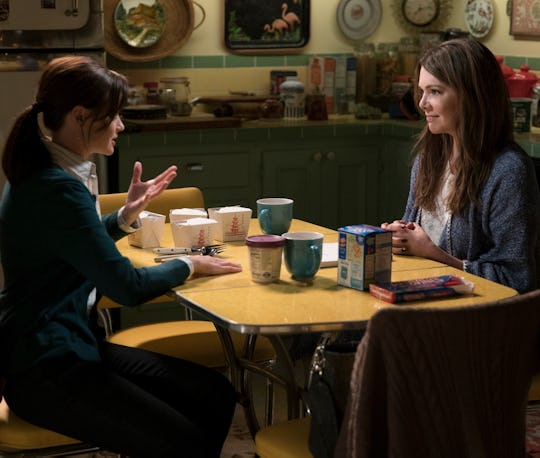 Saeed Adyani/Netflix
When Does The 'Gilmore Girls' Revival Premiere? 'A Year In The Life' Starts This Fall
Ever since it was announced that Gilmore Girls creator Amy Sherman-Palladino announced that there was something in the works to bring back our favorite fast-talking mother-daughter duo, fans were understandably excited. And that excitement grew into staunch impatience, because it's one thing to hear the news of a Gilmore Girls revival of sorts, but being forced to wait for any news thereafter was just cruel. So now that we know some of the details, when does Gilmore Girls premiere on Netflix? The first teaser trailer was just released (cue the 'replay' button over and over), giving fans a renewed urgency in getting to see Gilmore Girls: A Year in the Life soon.
The premiere date for Gilmore Girls is November 25, which gives you something to look forward to once your belly is full of all of that Thanksgiving turkey and you're either protesting Black Friday or your feet hurt from pounding the pavement of participating in the biggest shopping day of the year. While we all probably want the four-part series to premiere this summer, or like right now, at least this gives us some time to build up the hype even more. And to speculate - always, the speculation.
When Gilmore Girls ended almost a decade ago, we had Lorelai and Luke finally together again, Rory was getting ready to go off on an adventure, reporting Obama's bid for the presidential election, and for the most part, all was well. But even in a series where the finale was done so perfectly to adhere to the values and wants of the characters involved, any Gilmore Girls fan will tell you that it wasn't enough. It actually makes you want more to see a series finale so good. If the show had ended in a cliche way or it has gone on a few more seasons, drawn out the way some TV shows end up doing to themselves, then the finale may have been welcomed with much wider open arms. But the fact that the Gilmore Girls series finale was done so right made it that much harder to deal with afterward.
When Gilmore Girls premieres on Netflix in November, we're going to see four episodes that are each mini-movie-length at 90 minutes each, detailing one season per "episode" in the lives of Rory and Lorelai. Of course we'll need some time to have them set it up for us, since Luke and Lorelai are obviously still together, blissfully in love (we hope) and being virtually offspring-free, as this is almost 10 years after we last saw them. Rory is now a total adult, and all three of her major boyfriends from the series will be making appearances in Gilmore Girls: A Year in the Life, so take that how you will. The series finale showed us that Rory's story wasn't one about needing her to "end up" with anyone, but she's had time to find herself and become a legit adult. Maybe now we can have her be with Dean, Jess, or Logan.
Regardless of whatever the main story of these four monumental episodes will be, the fact that we're getting them at all is amazing. It would be easy to bring back the series to TV and start a whole new batch of seasons, but this new short-lived format will make it all the more special for those die hard Gilmore Girls fans. Gilmore Girls premieres on Netflix on November 25, which is unfortunately still a good four months away, so in the meantime, let's look forward to Netflix binge-a-thons and gearing up for the return.