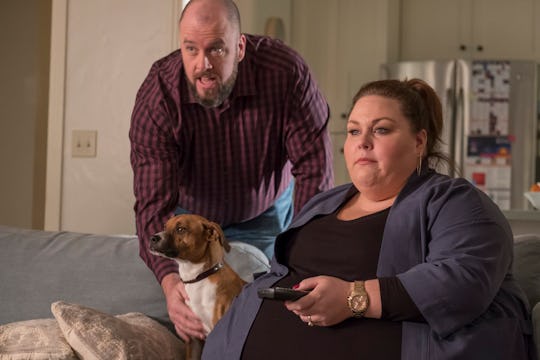 Ron Batzdorff/NBC
The 'This Is Us' Special Will Give Fans A Refresher Course Before Season 3
I know I'm not the only fan of This Is Us who's been stockpiling Kleenex all summer and waiting with bated breath for any and all updates on Season 3. Luckily, ahead of the Season 3 premiere, NBC is airing a special sneak peak with clips, interviews, and details on what's to come. Since Season 3 premieres on September 25, though, when does the This Is Us special air? Deadline reported that a week before the premiere, The Paley Center Salutes This Is Us special will air on September 18 on NBC at 10 p.m. ET.
"We are proud to once again partner with our friends at NBC for this very special look at the trials and triumphs of the Pearson family before the series returns for its highly anticipated third season," Maureen J. Reidy, the Paley Center's president and CEO, said, according to Deadline.
I highly doubt that dedicated fans have really forgotten any of the heartache and happiness of the show's first two seasons, but there's no better way to usher in the new season. The This Is Us special will feature most of the show's key stars, including Milo Ventimiglia, Mandy Moore, and Sterling K. Brown, as well as some of the show's writers and producers. In addition to the different interviews, there will also be clips from the past two seasons to get fans ready for the season ahead — and also to make them sob like babies.
Surprisingly, Season 2 of This Is Us actually ended on a positive note. Toby and Kate finally got their wedding and Kevin came to terms with Jack's death and started to properly grieve him. But then the flash forward clips brought up a ton of new questions for viewers to stew over for the entire summer.
Kate is shown trying to comfort a possibly depressed Toby, while Kevin and Zoe, Beth's sister, are flying to Vietnam together. Randall and Tess are shown in a clip, that I assume is even further into the future, as they discuss visiting a "her" who remains nameless for the time being. Chances are, some of this will be teased in the This Is Us special before the Season 3 premiere, but it really can't come soon enough.
This Is Us creator Dan Fogelman has already said that Season 3 will be like a fresh start in a way. "I think what's cool about this season and what potentially makes it our biggest in scope thus far is that everybody is kind of getting a new 'plotline,'" he told Deadline in July. "The goal of the end of Season 2 was to wrap some things up and start some new chapters. [Season 3] is continuous from where we left them, but they're starting new chapters."
He also hinted at Season 3 delving deeper in Jack's past before he even met Rebecca, when he was in Vietnam with his younger brother Nicky. Fans kind of guessed as much at the end of Season 2 when there was that short clip of Jack in a military plane.
Since the series premiered in 2016, This Is Us has been a huge hit both with fans and critics. I'm not sure if anyone really needs another reason to get excited for This Is Us Season 3, but there's nothing like a recap in the form of an hour-long TV special to get you hyped.