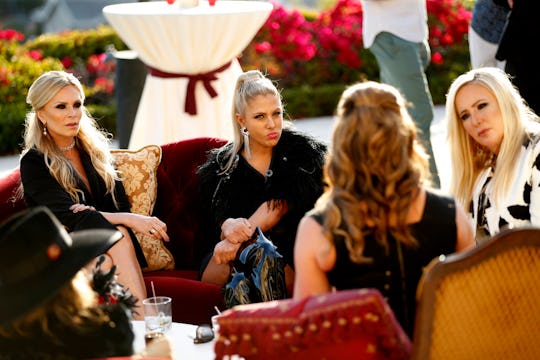 Phillip Faraone/Bravo
Fans Are Going To Have To Wait A While Before Season 14 Of 'RHOC' Premieres
With all of the drama on Season 13 of The Real Housewives of Orange County coming to an end, you have to wonder when you'll get to see the frenemies reunite for another season of drama and fighting while you live vicariously through them. Unfortunately, you'll probably be waiting close to a year before the women return, but when is RHOC Season 14 exactly? If it comes back the same time as Season 13 did, then viewers can expect to see a premiere date in summer 2019.
The past four seasons have all premiered in either June or July, so it's likely that RHOC Season 14 will premiere in June or July of 2019, if only to stay on a somewhat regular schedule. Viewership has remained in the steady area of almost 1.5 million viewers per episode this season, which is similar to past seasons, so there's no reason to think Bravo would push back a Season 14 premiere date now.
There hasn't been an official RHOC renewal just yet, but as the show that started it all for the popular Real Housewives franchise, I don't see it leaving Bravo anytime soon. Until there's an official renewal and premiere date announced, however, it's safe to assume that Season 14 will be here in time for summer 2019.
Kelly Dodd appeared on The Talk recently and while she didn't have any information on a Season 14 premiere date, she did open up about who she doesn't think should return. So although there hasn't been an official renewal just yet, the fact that the cast is talking about the future of the show makes it seem almost certain that there will be one. "Vicki… I mean she's kind of like spoiled milk," the RHOC said of Vicki Gunvalson, who's an OG RHOC star. "Her expiration date is old. She's turning into like a cheese… like a blue cheese that stinks."
Kelly also said that it would be smart to bring back Heather Dubrow, who left the show before Season 12, "Just because… drama."
Kelly and Vicki might have once been good friends, but things took a turn for the worst for the BFFs when Vicki allegedly set up Kelly's ex-husband on a date. To be fair, it probably wasn't the best move after your friend ends an 11-year long marriage to the guy, but it was the catalyst for a long and drawn out feud between the former besties.
Back in October, Kelly told Entertainment Tonight that seeing Vicki and her boyfriend go on double dates with Kelly's now ex-husband on this season of RHOC opened up the wound all over again and, as viewers have seen, the women still can't stand each other. While it's never fun to see two good friends lose something over a girl code mishap, it has made for some seriously engrossing drama this season. And since that could spill over into Season 14, fans are going to want to know when RHOC will be back after Season 13.
Since RHOC hasn't officially been renewed, there's no word yet on who will return and who will be on the chopping block come next summer. Personally, I would love to see more Gina. It's unclear how eager Gina herself would be to return to the she said/she said antics that is RHOC, but then again, that is the name of the game.