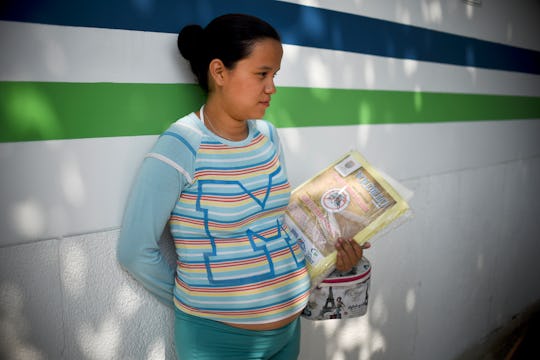 Luis Robayo/AFP/Getty Images
When Should You See A Doctor About The Zika Virus? Health Officials Urge People To "Be Alert"
Amidst rising concerns over the global response to the mosquito-born Zika virus, White House Press Secretary Josh Earnest invited federal health officials to his press briefing on Monday, where they fielded questions on Zika in the Americas. According to a transcript on WhiteHouse.gov, Dr. Anne Schuchat from the U.S. Centers for Disease Control and Dr. Tony Fauci from the National Institutes of Health spoke on plans for mosquito eradication and vaccine production. Fauci and Schuchat also offered guidance on potential risks for travelers and when to see a doctor about the Zika virus or possible exposure.
The press briefing came just after President Barack Obama announced plans to request $1.8 billion in emergency funding from Congress to combat the Zika virus in the U.S. and abroad. Speaking to Gayle King at CBS News, Obama said that because Zika posed a minimum danger compared to other infectious diseases such as Ebola, people "shouldn't panic" about the possibility of a mass outbreak in the U.S. But while Zika is unlikely to affect the U.S. as much as was once feared, Fauci and Schuchat told the White House press corps that the government is "working 24-7 to understand this virus, to detect it where it is occurring, and to prevent its spread."
Since the news of the rapidly spreading Zika virus first broke worldwide late last year, questions about the threat of Zika seemed to outnumber the clear answers. In an unusual move that hinted at the severity of the risk to unborn babies, the Centers for Disease Control moved quickly to issue travel guidelines urging American women who are pregnant or planning pregnancy to avoid countries where the Zika virus was active. Not long after that, the World Health Organization declared Zika a global health emergency — only the fourth time in history an infectious disease outbreak has carried the designation.
But for many people, the first, most basic thing to clarify is exactly when to consult a doctor over possible Zika exposure. Here are some important guidelines, according to Fauci and Schuchat.
Zika Symptoms Can Be Easy To Miss
According to Schuchat, there are at least two reasons why possible Zika exposure could be difficult to spot. "In the general public, four out of five people seem to have no symptoms," Schuchat said. "One out of five has very, very mild illness without us expecting to have lots of deaths." The CDC website lists the common symptoms of Zika as fever, rash, joint pain, and conjunctivitis (also known as pink eye). Most symptoms last for around a week, according to the CDC website, and people rarely get sick enough to go to a hospital. That's why it's so important for travelers — pregnant or not — to know when to get tested for Zika.
Travel To These Countries Could Mean Seeing A Doctor
On Monday the CDC issued Zika-related travel advisories for 28 countries, Puerto Rico, and the U.S. Virgin Islands. People traveling to those countries who aren't pregnant or planning to become pregnant should take precautions to avoid mosquito bites, according to the website. But, in recent days, the advice from federal health officials has become a bit more nuanced. Schuchat said on Monday that women visit a Zika-affected area should be tested "even if they hadn't had any symptoms." In addition, she urged people returning from Zika-affected areas, whether they've had symptoms or not, to take precautions when having sex with a pregnant partner since at least one case of sexually transmitted Zika has been confirmed in the U.S.
In January, the CDC published a series of steps to screen pregnant women for the Zika virus, including when and how patients will be able to access blood testing. Whether a blood test is positive, negative, or inconclusive, the CDC recommended that doctors and patients monitor for signs of Zika infection through a series of ultrasound scans.
Women Considering Pregnancy Could Need Treatment, Too
When it comes to women considering pregnancy in the near future, the official guidance is a bit more murky. Fauci recommended that women who want to get pregnant "seriously consider putting off" travel to countries where Zika is present. Schuchat added that because many of these are personal choices, it's worth talking to a doctor before making travel plans:
Every individual circumstance is different. Going home for a funeral, maybe a very special event. We think the most important thing that we can do at CDC is to let people know what we know and what's a prudent action. So we've actually said to people to consider deferring travel, and if they can't defer travel, here are the steps that they can take to protect themselves from mosquito bites. But the circumstances around travel are going to be very individual.
Both officials said they are hunting for clues on how to stop the spread of the Zika virus and are trying to understand the long-term risks posed by exposure. In the interim, they urged people to use caution and see a doctor to assess their personal risks. But it could be a while before anyone can give clear answers on the dangers of Zika. "We know that this is a really scary time for pregnant women," said Schuchat. "We want to make sure we get the best information possible to them as quickly as we can."