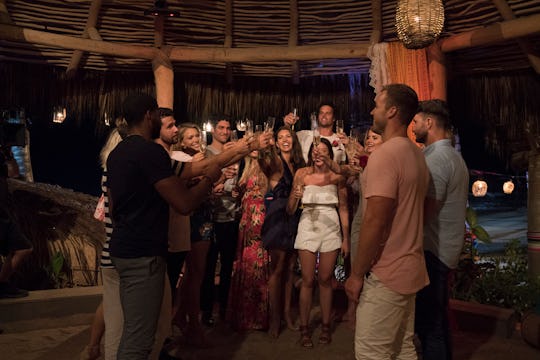 Paul Hebert/ABC
The 'Bachelor In Paradise' Season 5 Reunion Is Sure To Be Wild
Chris Harrison might peg every season of every show in The Bachelor franchise as the most dramatic to date, but Bachelor in Paradise Season 5 really was full of a ton of highs and lows for almost every cast member. As with these kinds of shows, that likely goes double for the reunion, but when was the Bachelor in Paradise reunion filmed?
In a perfect world, it would be live on TV and full of drama and confrontations, but unfortunately for fans, it was filmed a couple of weeks ahead of the BiP finale. This means that, like the events of the season, everything that happened on the reunion is now in the past, but as of right now, it's all been relatively kept secret among the Season 5 contestants. And there were certainly a lot of ups and downs leading up to the filming of the BiP reunion.
Throughout the course of Season 5, Venmo John may have had his own mini season of The Bachelor. He dated around Paradise and although he may not have fallen in love like some of the other contestants this season, he did seem to have a good time. Then there was Annaliese, who seemed to have thought she found love in a hopeless place (well, in Paradise, anyway) with more than one fellow castmate at different times throughout the season. And of course viewers got to watch the Tia and Colton saga play out even further than it already had on The Bachelorette. Naturally, I expect all of that and more to come to a head when the reunion airs on September 11 after the finale.
Chances are, viewers are in for a few different confrontations at the BiP reunion. Depending on whether or not Kamil and Annaliese are still together after the show, Shushanna might be ready to confront Kamil about giving her the cold shoulder after their romantic first and only date. To Kamil's credit, he did let her down gently, but she clearly had some unrequited feelings for him and those feelings could come out once again during the reunion.
I also fully expect more from Tia and Colton about their former romantic relationship and the status of their relationship, or friendship, as of now. Even though Colton is the next Bachelor, they could still have a friendship outside of BiP. And either way, I expect the two of them to once again talk about their past together, on stage. She certainly had something to say about her former relationship with Colton backstage at the taping of the BiP reunion.
"Honestly, during that breakup, I felt like I was consoling [Colton] because he was so upset and it bothered me to see him upset," Tia told Entertainment Tonight's Lauren Zima. "And I was appreciative that he told me when he did. He knew that he wasn't giving me what I deserved and what I knew I was ready for. And all I could do in that moment was know that he fully tried. I feel like it happened exactly how it needed to so we could realize that we are not for each other and so we can both move on."
But Tia and Colton's journey on BiP isn't the only one that fans hung onto this season. Kendall and Grocery Store Joe were also a memorable couple and, after briefly becoming entangled in a love triangle with Leo, they gained footing again. Neither Kendall or Joe have confirmed their relationship status after the show, but at the very least, Kendall was definitely at the reunion taping, where she spoke with Extra backstage.
"There's so many different things that happened [at the reunion] that I did not expect at all, and I don't really know how to feel after the reunion right now," she said. She also expertly skirted all questions that might reveal if she's still with Joe, but she did tease that the reunion will reveal all. "With the reunion, you kind of see where we are… on the reunion, you find out if we're together or not."
Fans might also see a proposal or two. It's hard to say if there will be any proposals on either the BiP finale or on the reunion, but the reunion promo did seem to tease at least one BiP reunion proposal. So among the dramatic confrontations and reunions between different cast members, fans can also likely expect some happier moments for the beloved members of Bachelor Nation.