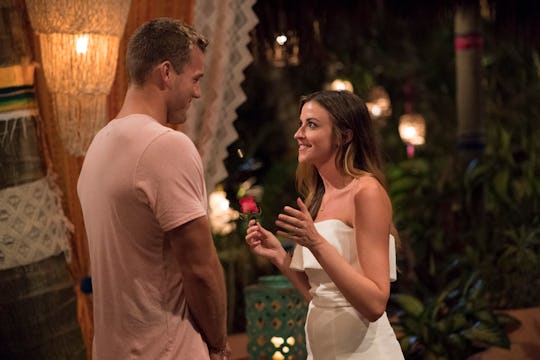 Paul Hebert/ABC
Tia Had A Very Good Reason For Leaving 'Bachelor In Paradise' Behind
It's never easy to watch a breakup on reality TV, especially when there are real tears and real feelings at stake. So when Colton broke things off with Tia on the Sept. 3 episode of Bachelor in Paradise, it was rough. On the one hand, he was just being honest with her about his feelings and their future as a couple. But on the other hand, it really seemed to come out of left field for her. Colton made the decision to leave right away, but why did Tia leave Bachelor in Paradise, too? She said herself that there's no one else she'd rather experience BiP with. With Colton leaving, it made the most sense for Tia to head home too and regroup rather than stay and struggle to make a connection with someone else while her heart wasn't in it.
After what is likely their final breakup aired on TV, Tia took to social media to talk about it and wish her now ex-boyfriend the best as he embarks on his journey as the next Bachelor. So while it was definitely hard to watch the heartbreak that ensued after Colton broke things off with Tia yet again, it may have been for the best. "Never ever regret following your heart. Things may not always work out as you planned, but they always work out as they should," Tia wrote on Instagram. "Thankful that this chapter of our lives has ended so new chapters can begin. I truly wish you the best, C."
Before BiP Season 5 even premiered, Tia and Colton already had a relationship prior to Bachelor Nation. They had a brief weekend long fling before Becca Kufrin's season of The Bachelorette, and during the season, Tia showed up to reveal that she still had feelings for Colton. While he told Becca that he didn't echo those same unresolved feelings for Tia, he was eventually sent home.
Only he didn't necessarily go home. Instead, he was given the chance to continue to find love on BiP, and since Tia was too, they reconnected early on in the season. After a bumpy first few days of their newly formed relationship, Tia and Colton became one of the more established relationships in Paradise. So when Colton realized that he couldn't see a clear future with Tia, it was a big shocker all around.
Despite all that, however, Tia and Colton seem to be friends now that filming is over and they're both ready to move on. Colton is going to be the next Bachelor and, as Tia said on Instagram, she's ready for the next chapter of her life to begin. She did, however, tell Access Hollywood that she's not sure Colton will be able to handle the obstacles that The Bachelor presents each week. "Yeah I'd be supportive of [Colton as the Bachelor], but seeing how much he struggled on Paradise — one, with seeing Becca, and two, with not being ready for a relationship with me — I don't really know how he would handle having to hurt people, emotionally, every week," she said, before The Bachelor announcement came.
I know I'm not the only one who really thought that Tia and Colton were destined for the sort of BiP love that Ashley I. and Jared now have. They had a will they/won't thing going on and they seemed ready to make things work once they arrived in Paradise. Unfortunately, since Colton realized his feelings just weren't strong enough, Tia decided to go home as well since she wasn't interested in anyone else who might show up on BiP. Hopefully, she really can start a whole new chapter now that the show is behind her. And really, I wouldn't say no to seeing Tia find someone else on BiP Season 6.