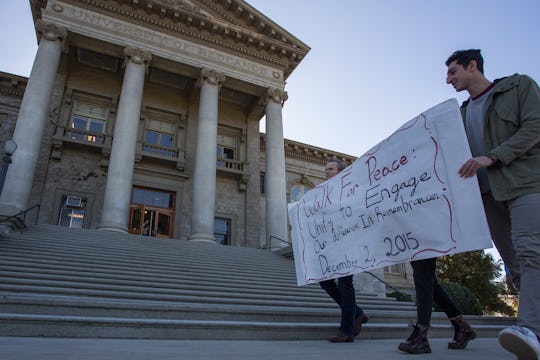 David McNew/Getty Images News/Getty Images
North Park Shooting Is Most Recent In Non-Stop Series
On Monday morning, a shooter opened fire on a school in San Bernardino, California, killing one other adult before and wounding two students before turning the gun on himself, according to officials. The deadly incident at North Park Elementary School has parents terrified and many people wondering: When was the last school shooting? Less than six months have passed.
According to ABC News, San Bernardino Police Chief Jarrod Burguan tweeted Monday afternoon that the shooting appeared to be a murder-suicide. The two adults were found dead in one of the elementary school's classrooms, he wrote. The two injured students were taken to local hospitals, but their conditions are unknown. Though the North Park Elementary was on lockdown and police continued to secure the scene, officials do believe that "the suspect is down and there's no further threat," Burguan added on Twitter. Other schools in the area have also been placed on precautionary lockdown, according to ABC News.
The shooting in San Bernardino, California comes less than six months after a 15-year-old student at Mueller Park Jr. High in Bountiful, Utah, fired a gun into a classroom ceiling before turning it on himself, according to Fox 13 Now. The local news station reported that no one was injured in the school shooting, which happened on Dec. 1, thanks to the verbal intervention of the teacher and a student in the room.
The shooting in Bountiful occurred less than two months after another incident in a neighboring city. On Oct. 25, a 14-year-old boy shot and critically wounded a 16-year-old student outside of Union Middle School in Sandy, Utah, which is less than 40 minutes south of Bountiful, according to NBC-affiliate KSL. The 14-year-old student shot twice at the victim, who was rushed to an area hospital and had to undergo emergency surgery. The shooter was charged with attempted murder, as well as felony discharge of a firearm causing serious bodily injury, the station reported.
The last deadly school shooting happened on Sept. 28, when a 14-year-old teen opened fire at Townville Elementary School in South Carolina, injuring two students and one teacher at the time, according to NBC News. One of the students, 6-year-old Jacob Hall, died from his injuries three days later. The murderer shot his father to death before heading to Townville Elementary, NBC News reported. He was charged with murder and three counts of attempted murder.
The deadly attack at North Park Elementary is the 12th school shooting of this year, according to Everytown For Gun Safety, an independent, non-partisan nonprofit organization tracking gun violence in America. There were nearly 50 reported mass school shooting in 2016. All told, Everytown has tracked more than 200 school shootings in the country since the Sandy Hook massacre, which claimed the lives of 20 young children and four adults.
More than 200 school shootings in four years. That's not a statistic that should exist. The family of the victim in Monday's deadly incident should not have to bury their loved one. No one should have to bury their lover, their child, their parent or their friend because of a shooting that could have been prevented through sensible gun safety laws. And people shouldn't have to, once again, take to social media to share their condolences and prayers.