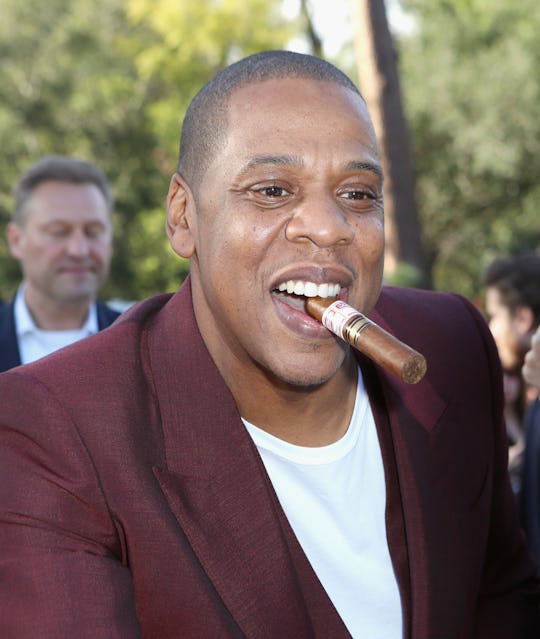 Ari Perilstein/Getty Images Entertainment/Getty Images
Don't Look For '4:44' On iTunes Just Yet
The timing for JAY-Z's new album simply couldn't be better if a team of marketing geniuses sat down in a brainstorming session and planned it out (which they might have). The rapper/music mogul just became a father for the second and third time to the most famous twins on the planet, sorry Clooney babies. The eyes of the world are on him. And so, JAY-Z will be dropping 4:44 into everyone's laps at the end of June, which is perfect timing for everyone who subscribes to Tidal. Unfortunately for those with iTunes, 4:44 will be out of reach — at least for now.
JAY-Z has been toying with fans for weeks with the numbers "4:44" appearing mysteriously in banner ads and in subway posters all over New York in early June. Some people were even wondering if 4:44 could be some coded message announcing the arrival of the twins, but it turned out to be yet another clever marketing campaign. This album, which will be streaming exclusively on Tidal as of June 30, will be JAY-Z's first since his platinum album Magna Carta Holy Grail was released in 2013. JAY-Z plans to release 4:44 along with a movie starring Mahershala Ali, Lupito Nyong'o, and Danny Glover at the end of the month — again, only for Tidal users.
While 4:44 won't be available on iTunes for some time, JAY-Z has already shared his first single from the album and a preview of the movie to celebrate Father's Day. The song "Adnis" gets deeply personal about JAY-Z's own experiences with his father, Adnis Reeves, who left him when he was just 11 years old (the two later reconciled):
Letter to my dad that I never wrote / Speeches I prepared that I never spoke / Words on a paper that I never read / Proses never penned / They stayed in my head.
For JAY-Z fans who have not yet signed up with Tidal, Sprint (which recently acquired a 33 percent stake in the streaming service) is offering a six month free Tidal HIFI offer for new and existing Sprint users. Sprint and Tidal are also partnering up to support the 1Million project, which looks to help 1 million low-income high school students get internet access for homework.
Die hard iTunes users will have to wait to stream 4:44 if they don't want to embrace Tidal; no word yet on how long the album will remain exclusive to the streaming service, or whether or not there will be a physical album.
The good news is that JAY-Z plans on touring festivals like Austin City Limits, Made In America, and Meadows for 4:44. So that's something, right?