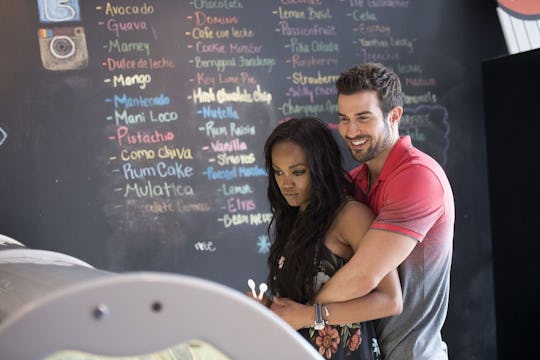 Rodrigo Varela/ABC
Don't Expect Rachel's Wedding To Be Anytime Soon, 'Bachelorette' Fans
Rachel spent several weeks narrowing down the couple dozen suitors to just a select few gems and when it came down to it, she accepted a proposal from Bryan, who seemed like he already kind of won that first night anyway. But now that she's wearing that rock and things are finally out in the open, when will Bryan and Rachel get married after The Bachelorette?
Even though the season's over, the new couple is going to take their time actually getting to the altar. Rachel already revealed to E! News that she and her new fiancé, who we now know is Bryan, the Miami chiropractor, watched the entire season of The Bachelorette together. Even though, you know, it meant watching Rachel essentially date several other men as she dated him on the show.
"We have secret meetings where we see each other, but it's never enough," she admitted to E! News' Zuri Hall. But when asked about planning their actual wedding, it would seem that the eager to get engaged Bachelorette is totally fine with taking things slow now that she's found love. "Obviously, I want to get married, I'm not going to deny that," she said. "But I'm not planning a wedding anytime soon. We're just trying to get to know each other better."
And really, that's understandable, since Rachel and Bryan's relationship was a whirlwind of traveling the world, meeting families, and trying to decide if they were endgame over the other men who Rachel felt strongly for. Taking their time with planning their wedding because they can actually do that now is almost to be expected for The Bachelorette couple.
She told USA Today at the Men Tell All taping that while there are no wedding bells in the very near future, that's not to say that there won't be some serious planning at all. "I've never been the girl to have the dream wedding," Rachel admitted. "I can tell you my dream bachelorette party, but I cannot tell you my dream wedding." But, just in case you're worried she's having cold feet, the Bachelorette said she does see a wedding happening "sooner rather than later."
Rachel also revealed in the E! News interview that while no date is set for the wedding after The Bachelorette, she already plans to invite plenty of Bachelor Nation stars. "I have close girlfriends from when I was on Nick's season [of The Bachelor], so they'll definitely be in it," Rachel revealed.
We have to remember that now that The Bachelorette is over, not only do Rachel and Bryan finally get to do something as simple as go shopping in public together, but they also get to solidify their plans of moving in together.
At the end of the three-hour Bachelorette finale event, Rachel did admit to wanting a winter wedding, but since this winter is a little soon, that could mean that they could be planning a wedding for the end of 2018.
So to expect wedding bells on, say, the After the Final Rose special, isn't exactly realistic. It would be nothing short of amazing, but this is the time for Bryan and Rachel to really get to know each other better before they work on any wedding plans. The important thing, though, is that they're engaged and clearly very happy with the way the season turned out.