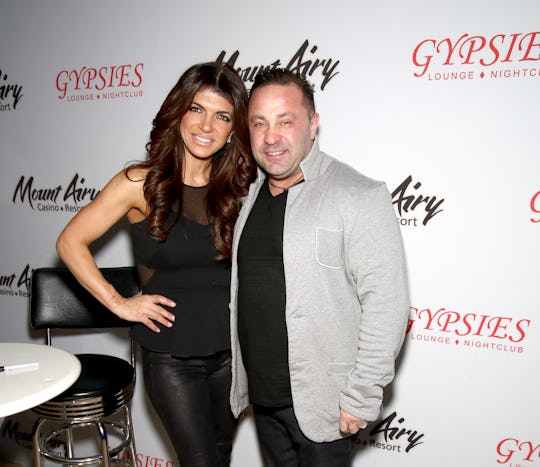 Paul Zimmerman/Getty Images Entertainment/Getty Images
Joe Giudice's Prison Sentence Is Almost Up
Teresa Giudice is one of the OG Real Housewives of New Jersey, but the past few seasons have not been easy for her. In 2014, both Teresa and her husband Joe Giudice were found guilty of multiple counts of bankruptcy, wire, and mail fraud, for which Teresa served 11 months in prison. Her husband is still serving out his 41 month sentence in a federal prison, but when will Joe Giudice be released from prison?
His original sentence was much longer than the term he's now serving. Us Weekly reported in 2016 that just one week after arriving at the Fort Dix Correctional Institution, five months were shaved off his sentence. So while his original scheduled release date was August 2019, his new release date is March 2019.
Around the same time, Teresa spoke to Bravo's The Daily Dish and offered some insight into what life had been like at home with their four children but without Joe. "It has been a difficult week for us, but we're making it through, thank God," she said. "Joe's doing as well as expected. Of course we spoke to him. And I just wanted to say thank you again from my heart for being there, and for all your beautiful tweets."
Now that it's closer to Joe's prison release date, Teresa has no doubt settled into a new normal as the March 2019 date looms ahead.
RHONJ fans learned about the widely publicized fraud charges against Teresa and Joe both on and off the show. And while it seemed all but certain that they would be found guilty, it was still a shock when Teresa herself served time in prison as well for her part in the conspiracy charges. The official indictment included 39 counts of conspiracy to commit mail, wire, and bankruptcy fraud as well as making false statements on loan applications.
Although they initially plead not guilty to the fraud charges, Teresa and Joe later agreed to a deal with the prosecution and pled guilty to 41 counts of fraud. Part of Joe's legal troubles began in 2010 when he was accused of allegedly using his brother's birth and marriage certificates to get a license. He was convicted and sentenced to 20 days of community service, but the fraud charges to follow landed him in federal prison for what was originally a 41 month sentence.
Although Joe's prison sentence hasn't yet ended, a judge recently announced that following his release in 2019, he will be deported back to his home country. Radar Online reported that in an October court hearing, the judge ruled he be deported to Italy following the completion of his prison sentence. According to Radar Online, it was a shock to Joe, who replied, "I've been here my whole life, I wouldn't know what to do in any other country." While Joe wasn't born in the United States, he did spend the majority of his life here, but never obtained an official U.S. citizenship.
The judge reportedly told him during the hearing, "Based upon the law, I find you deportable and ineligible for any kind of relief… Mr. Giudice, no matter how this turns out, I wish you the best. I decided this case as a matter of law."
Joe has since filed an appeal against the deportation order and his attorney told People that they were "optimistic" that the ruling will be overturned and that he'll be permitted to return home to his family in New Jersey following his time served.
It's hard to say now what the end result will be, but as fans of RHONJ have seen, the entire ordeal has been difficult on Teresa and her family. The hope is likely that Joe will be able to come home, as planned, and get to back to some kind of normalcy that the family hasn't seen in years.