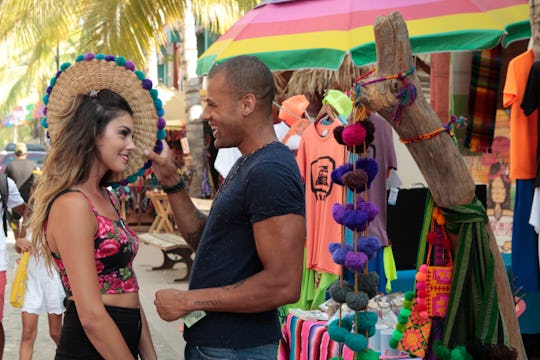 Rick Rowell/ABC
When Will Lace & Grant Get Married? The 'Bachelor In Paradise' Duo Might Do A TV Wedding
The third season of Bachelor in Paradise was filled with ups and downs for virtually every couple who paired up while on the beaches of Mexico. Some – like Vinny and Izzy, Jared and Caila, or Ashley and, well, anyone – weren't able to go the distance. Out of the final four remaining couples, viewers were definitely (pleasantly) surprised to see that Grant and Lace managed to make it work – "Grace" quickly became one of the most solid and popular Paradise couples, and a finale engagement seems like a sure thing. But when will Lace and Grant get married?
I think, at this point, it's all but guaranteed that Grant and Lace will get engaged during the Bachelor in Paradise finale. It's a simple process of elimination, combined with what has already been teased by the show's producers. Back in late June, before the season had premiered but after it had already been filmed in full, Mike Fleiss, one of the executive producers, tweeted excitedly about the fact that this was a particularly successful season of the Bachelor Nation franchise. In no uncertain terms, Fleiss let fans know that the season ended with more than one engagement among the group of Bachelor alums.
So, going into the finale, we know that there are at least two (out of the remaining four) couples who will get engaged. Given that Nick Viall was just announced as the new Bachelor for the upcoming season, effectively spoiling his Paradise ending, we know that Nick and Jen Saviano will likely not be one of those engaged couples. The remaining three – Carly and Evan, Amanda and Josh, and Lace and Grant – all seem like they're in pretty solid places. Two of the three (or possibly all three) will get engaged, and Grant and Lace seem like the surest sure thing of the bunch. After all, Grant told Lace that he loves her (repeatedly!), and they got matching "Grace" tattoos together. They've also been gushing about one another on social media, like the super cuties they are.
Assuming all goes according to plan and "Grace" is one of the "multiple engagements" – and potentially is the "at least one" of the couples that actually get married, since, after all, Bachelor engagements have been known to fall through – odds are the two will have a televised Bachelor wedding sometime next year.
For one, Fleiss already mentioned his intention to film the franchise's first ever double wedding, via Twitter. For another, Bachelor Nation has a penchant for celebrating its successful pairings by inviting them to marry on national television. It's kind of like a "Look, world! We did it!," showing that the franchise can actually accomplish what it set out to do – helping gorgeous people find love in front of millions of viewers, sometimes on a beach in Mexico.
Sean Lowe, the star of The Bachelor Season 17, and his winner Catherine Giudici got engaged during the season finale and were married in a televised ceremony a little over a year later on January 26, 2014. Season 7 Bachelorette Ashley Hebert and her winner J.P. Rosenbaum similarly married and televised the ceremony about a year and a half after initially getting engaged on the show. If this pattern holds, Lace and Grant (assuming that they're one of the couples to get engaged and the engagement lasts) will probably get married in late 2017 or early 2018, during the off-season when no Bachelor Nation show is airing.
Of course, whether Fleiss will successfully get his televised double wedding remains to be seen – as does whether Grant and Lace will be standing up at the altar next to Amanda and Josh, or Carly and Evan.