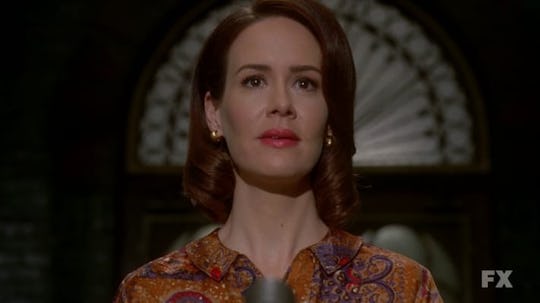 FX
When Will Lana Winters Appear On 'AHS: Roanoke'? This 'Asylum' Crossover Is Happening
As if Season 6 of American Horror Story wasn't shrouded in enough mystery and surprises, fans will now be seeing the return of an Asylum favorite in the form of Sarah Paulson's unforgettable Lana Winters. But when will Lana Winters appear on AHS: Roanoke? Last fans saw of her, she'd managed to get discharged from Briarcliff and become a successful TV reporter. In later years, she eventually went on to shoot her adult son (played by Dylan McDermott), the by-product of her time with Bloody Face, who had abducted and raped her during her time at Briarcliff. Suffice to say, she went through a lot in her lifetime, which makes her return to the AHS world so intriguing.
So when will Lana Winters be coming back to AHS? On Halloween, fans were given more treat than trick in the form of a tweet from Ryan Murphy in which he stated that, "Sarah Paulson's Asylum ultimate survivor Lana Winters returns this season on AHS: Roanoke. Happy Halloween!" When that happened, it created a ripple effect in the AHS community, as they collectively wondered when Lana Winters would make her big debut, since her return was confirmed by the man himself. But as of Episode 8, the reporter and former asylum patient is still nowhere to be found.
Season 6 of AHS has had a different format, to say the least, with Sarah Paulson first playing Shelby Miller in My Roanoke Nightmare, and then Audrey Tindall as the actress who played Shelby in the reenactments. And according to IMDB, the third character on Paulson's roster for AHS: Roanoke, Lana Winters, will be appearing in Episode 10.
This now leaves the other burning of question of how Lana Winters is going to fit in with all that's gone on this season. In addition to a family terrorized in the hundred-year-old home they purchased on old colonial property, viewers then saw the same family, along with their actor counterparts, return to said property to be terrorized all over again.
But if the rest of the season is going to play out with the haunted house aspect reaching a conclusion in Episode 9, then you have to assume that Lana will be on hand to interview the sole survivor of Return To Roanoke. Paulson has flawlessly done double duty during AHS: Roanoke by playing two important characters that she was able to separate into two distinct entities (one with an accent, no less), so by throwing a third character of hers into the mix, there's no real doubt that she'll be able to slip back into the role with very little effort.
Either way, I can't wait to see how it all unfolds. Episode 9 of AHS: Roanoke airs Wednesday night, with the Season 6 finale airing on Nov. 16 at 10 p.m. (ET) on FX. Same spooky time, same spooky network.